'Jihadi John' Vows to Return to UK With ISIS' Leader and 'Cut Heads Off' of Nonbelievers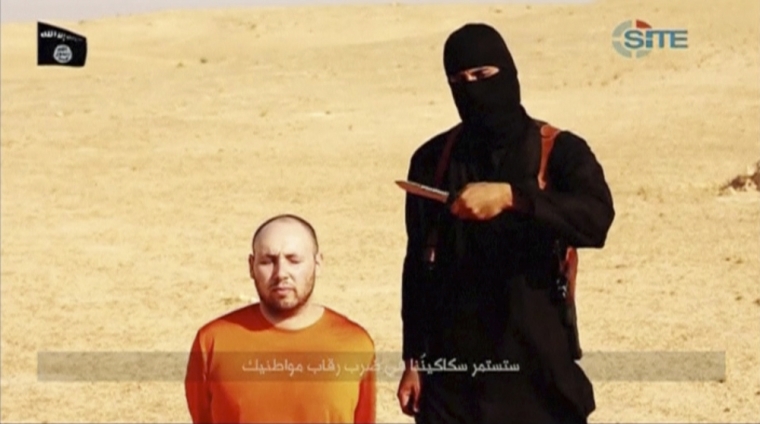 The Islamic State's most infamous and wanted executioner, Mohammed Emwazi, also known by his alias "Jihadi John," has allegedly been featured in a new video where he purportedly vows to return to the United Kingdom and continue beheading nonbelievers.
The video was obtained by the Daily Mail and marks the first time that Emwazi has been featured in a video without having his face covered. The footage, which lasts all of 1 minute and 17 seconds, was filmed on a mobile phone about two months ago in the ISIS-controlled Syrian town of Deir Ezzor.
An 8-second clip that the Daily Mail acquired shows Emwazi in a black hooded sweatshirt as he turns to directly face the camera. Although the Daily Mail obtained only an 8-second excerpt of the video, the news agency attained a full audio recording.
Emwazi became notorious for executing seven foreign captives, including American journalists and British aid workers, in publicized videoed beheadings that opened the world's eyes to ISIS' brutal nature.
He was last seen in a video in January where he beheaded a Japanese captive. There was some speculation at the end of July that Emwazi might be on the run from ISIS and that he could have fled to Libya or be hiding out somewhere in Syria with the help of rebel groups.
But the new video, which was found by fighters of the Free Syrian Army and sent to Bulgaria to be analyzed by other FSA-affiliated activists, gives reason to believe that Emwazi is still in good graces with ISIS' leadership.
In the audio recording analyzed by the FSA activists, Emwazi promises to return to the U.K. The 27 year old, however, will not come alone as he purportedly says he will return with ISIS' caliph Abu Bakr Al-Baghdadi.
"He looks at the camera and says, 'I am Mohammed Emwazi. I will soon go back to Britain with the Khalifa" [the leader of Islamic State],'" an FSA-linked activist in Istanbul told the Daily Mail.
Emwazi is believed to have said in his British accent: "I will carry on cutting heads."
"He said something more about cutting heads off: 'We will kill the kuffar [Arabic term for non-Muslims],'" the unnamed activist explained. "Then the camera shows two masked men that looked like bodyguards."
An unnamed expert on facial mapping told the Daily Mail that he is almost positive that the person seen in the new video is Emwazi, and added there is enough evidence to convict him in court for his other video executions.
"I have noted a number of apparent similarities in both the morphological and the proportional comparisons and in my opinion, the images lend support to the contention that they are the same person," the expert said.
Although Emwazi has allegedly vowed to return to the U.K. with al-Baghdadi, the two men are both among the most wanted terrorists in the world and it would not be smart for either to leave ISIS' safe havens in Syria.
Additionally, al-Baghdadi has not made a public appearance since the summer of 2014 and was believed to have been badly injured and possibly even paralyzed by a coaltion airstrike last winter.
As for Emwazi, ISIS' cold-blooded executioner has a €6 million bounty on his head.
The new video contradicts reports from late July which indicated that Jihadi John was fearing for his life. It was reported that since Jihadi John's identity was revealed as Emwazi, other ISIS jihadis were out to kill him either out of jealousy or because ISIS leadership didn't see a purpose for him anymore.
Emwazi, who is a former Westminster University student, was directly responsible for the deaths of Americans Steven Sotloff, James Foley and Peter Kassig, as well as British aid workers David Haines and Alan Henning. He also took part in the execution of 17 Syrian soldiers.