Jill Biden, Antony Blinken give 'woman of courage' award to Argentinian man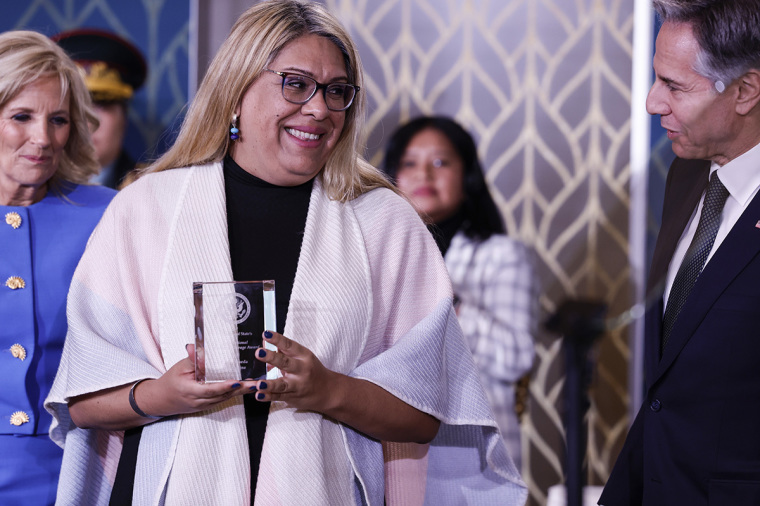 First lady Jill Biden and U.S. Secretary of State Antony Blinken presented an award designated for "women of courage" to an Argentinian man as women worldwide raise concerns about their erasure to accommodate men pretending to be female. 
On International Women's Day on Wednesday, the first lady and Blinken hosted the annual International Women of Courage Award Ceremony in the East Room of the White House.
The U.S. State Department said the event was held to honor "a group of 11 extraordinary women from around the world who are working to build a brighter future for all." However, one spot was given to a man, not a woman. 
Alba Rueda, a man hailed as Argentina's "Special Envoy for Sexual Orientation and Gender Identity of the Ministry of Foreign Affairs, International Trade in Worship," received an "International Women of Courage Award" Wednesday. In a video at the awards ceremony, Rueda described the position as "a commitment to a trans-feminist foreign policy that has grown in the light of public policies, through an agenda of activism within the State that also allows the development of public policies based on groundbreaking laws in Argentina."
When introducing Rueda, Deputy Secretary of Defense Kathleen Hicks identified the diplomat as "a transgender woman" (a term used for a man who self-identifies as a woman).  
The State Department never explicitly revealed Rueda's status as a trans-identified man in its list of awardees, although it did note that the activist was "one of the founders of Argentina Trans Women (MTA)" who "actively engages with Notitrans, the first transgender magazine in Argentina."
According to the State Department, Rueda "actively campaigned to change the name of the National Women's Conference to the 'Plurinational Conference of Women and Lesbian, Cross-Dresser, Transgender, Bisexual, Intersex and Non-Binary Persons' to include diverse, dissident, and racialized identities."
Rueda's recognition as a "woman of courage" comes amid concern about an effort to erase women in an attempt to accommodate and affirm the trans-identified community. In a speech at the Conservative Political Action Conference last week, former college swimmer Riley Gaines Barker, who had to compete against a man — Lia (Will) Thomas — who identifies as a woman, declared: "Man and woman is the sheer essence of humanity." She warned that trans activists are "trying to blur that line so we can't define what it is to be a woman."
"There are so many realms of life where they are … pursuing this aggressive attempt to fully eradicate women as a whole which is incredibly heartbreaking," she added. The trans-identified athlete Gaines had to compete against, Lia Thomas, was nominated by the University of Pennsylvania for the National Collegiate Athletics Association's "Woman of the Year" award even though Thomas had competed on the men's swimming team for three of the previous four years.
Concerns about the elevation of trans-identified males as women extend beyond sports, where biological differences between men and women, including variations in "body and muscle mass, bone density, bone structure and connective tissue" are seen as factors that give men an advantage over women in competitive athletics.
The replacement of the word "women" with umbrella terms and phrases has become more commonplace as society seeks to make overtures to trans-identified men and people who identify as non-binary. This has not sat well with many women, including some who characterize themselves as feminists. 
In 2020, famed Harry Potter author JK Rowling faced backlash for taking issue with the title of a Devex op-ed describing women as "people who menstruate." She sarcastically responded by recalling that "there used to be a word for those people," offering up "wumben," "wimpund" and "woomud" as possible names that may have referred to that group. In reality, the word she was looking for was "women."
"Birthing people" is another term that has gained popularity in recent years. While supporters of such terminology contend that the words are designed to validate the identities of trans-identified men and non-binary people, critics view the words as the reduction of women to their immutable characteristics and a denial of biological reality.