Jim Wallis: People Upset Over NFL Anthem Protests Are More 'White' Than 'Christian'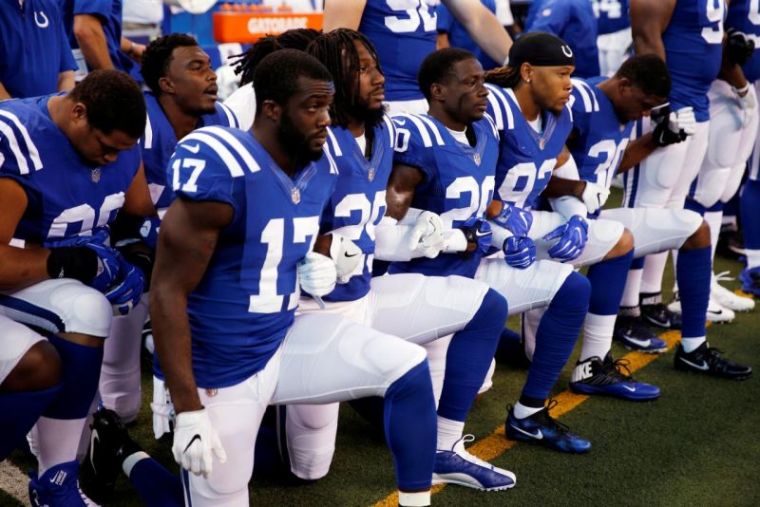 White Christians who are upset at NFL players who choose to protest during the playing of the national anthem are showing that they're more "white" than they are "Christian," the Rev. Jim Wallis has claimed.
Wallis, the president of the progressive Christian social justice organization Sojourners who is a prominent evangelical critic of President Donald Trump, wrote an op-ed published Thursday that commented on the emotionally charged issue of NFL national anthem protests and Trump's heated opposition to them.
Wallis stated that Sojourners has encouraged protests during the playing of the "Star Spangled Banner" before games as a "prophetic stance" that is "part of a tradition of black athletes taking a stand for racial justice in professional arenas."
The pattern of football players taking a knee or sitting during the national anthem began in 2016 with former San Francisco 49ers quarterback Colin Kaepernick who began sitting before taking a knee to protest police brutality against African-Americans. It became widespread in the NFL after Trump argued last month that players who protest the anthem should be fired.
Although many approve of the NFL players' protesting during the national anthem, there are thousands of Americans who believe that protesting during the playing of the "Star Spangled Banner" is disrespectful to the country, military, veterans and the U.S. flag.
However, Wallis asserts that the facts of "disproportionate lethal state violence against people of color are beyond dispute" and justify such protests. He continued by stating that "white sports fans" and others who voiced their displeasure with "Kaepernick's witness" are simply "demonstrating their ignorance" about police violence against people of color.
Kaepernick was photographed at 49ers training camp practices wearing socks depicting cops as pigs and was reported to have donated $25,000 to "Assata's Daughters," a group named after FBI fugitive and convicted cop-killer Assata Shakur. His donation was made "as part of his goal to provide $100,000 to underprivileged communities. He designated $2,500 specifically for 'Cop Watch,' a program that trains volunteers to follow and videotape police officers," Town Hall reports.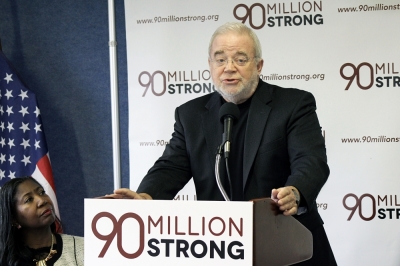 "For white Christians who got angry, it sadly was one more example of white Christians showing their brothers and sisters of color that the operative word in their white Christian identity is not 'Christian,' but 'white,'" Wallis wrote.
Although over 200 players throughout the league engaged in some form national anthem protest in Sunday games after Trump called for protesters to be fired on Friday, Sept. 22, fewer players have engaged in protests in the weeks to follow.
"It remains to be seen how long and to what degree these protests will last, as there is tremendous pressure on the players from President Trump, many owners, and some sponsors to 'stick to sports,'" Wallis stated. "This language — and the critiques saying those who take a knee are disrespecting the flag or the troops — is an attempt to veil the problem so many in power have with mostly black athletes protesting police violence against people of color and broader systemic racism."
Wallis also criticized the president for the fact that his comments about the NFL anthem protests and ensuing tweets throughout that weekend came on the same weekend that Hurricane Maria devastated Puerto Rico. Wallis said that Trump seemed to show that he cared more about his feud with the NFL than he did a "U.S. territory mostly populated by people of color."
"This is what has been made clear: Donald Trump doesn't really believe in the equality of citizens of color in America. He doesn't accept the fact that they deserve equal and fair protection under the law, or relief and support when they are in jeopardy from natural disasters. He just doesn't believe it. And he actively appeals to a core Trump base that doesn't believe it either," Wallis argued. "And this is what has been made clear to me: We all need to take a knee for racial justice, in our stadiums, our churches, and in our common community spaces."
Wallis added that Trump's opposition to anthem protests shows that it's "time for Christians to take a knee and pray for our country to survive a president who is utterly devoid of humanity, and whose actions empower and exacerbate the forces of racial inequity."
Although Wallis asserts that many who oppose the national anthem protests are ignorant of the facts of police violence, virginia pastor E.W. Jackson, an African-American, argued recently that the national anthem protests are not a "black thing."
The conservative pastor and activist said in a video that the data shows that the dis proportionate level of police violence against African-Americans is due to the fact African-Americans commit more crimes. Jackson added that "there is no epidemic of police brutality against black people."
"Just look at the Bureau of Justice statistics. That's the fact," Jackson contended. "Black men commit a disproportionate amount of violent crimes. You might not like to hear that but it's the truth."
"I am not saying that no police officer has ever done anything wrong and that no police officer has ever behaved racially. I am not saying that," Jackson continued. "I know better than that. What I am saying that is statistically, there is no epidemic of police brutality. There is epidemic of black-on-black crime and murder. That's the problem but you don't want to talk about that."