Jimmy Carter Condemns Sex-Selective Abortion, Killing at Birth of 160 Million Girls, in Liberty U Address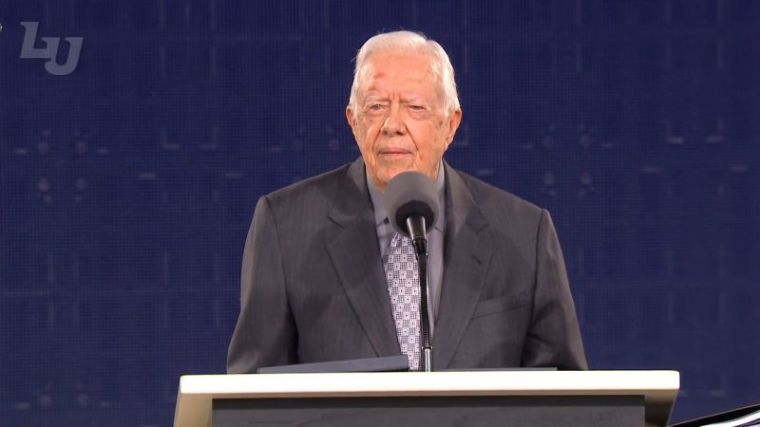 Former President Jimmy Carter, who said he is still an evangelical, called on all Christians to come together in his Liberty University commencement address Saturday in Virginia. He also identified the killings and abortions of 160 million girls around the world today as one of the greatest injustices facing humanity.
Carter, the 39th President, jumped through various talking points in his address at the major Christian university, and focused some of the most pressing human rights issues in the world today that he said Christians should be involved in.
He spoke of countries like China and others where male infants are greatly preferred over females due to economic opportunities, and noted that 160 million girls are not alive today because their parents "either kill their daughters by strangling them at birth," or they decide to abort them when finding out that the fetus is female.
Carter also condemned human trafficking and sexual assault, which he pointed out is a devastating problem in several South East Asia nations. At the same time, he noted that in the U.S. military itself, which he called "one of the finest organizations on earth," 16,000 cases of sexual abuse are reported every year.
As an evangelical and Southern Baptist who still teaches Sunday school, he urged Christians from all denominations to come together and focus on the things that unite them, rather than drive them apart.
"Baptists ought to come together as friends and not be alienated one from another," the former president urged.
Carter continued:
"One of the things we have to learn is how to get along, to do good for one another ... in other words, just following the mandates of the Prince of Peace. ... We don't need enemies to fight, nor do we need 'inferior' people whom we can dominate."
Quoting Galatians 3:28 in the Bible, he added: "There is neither Jew nor Greek, there is neither male nor female, there is neither slave nor master, for ye are all one, all one, in Christ Jesus."
He also urged the graduating class to use their education to spread Christ's message and to make the world a better place.
"We decide whether we tell the truth or benefit from telling lies. We're the ones who decide, do I hate or am I filled with love? We're the ones who decide, do I only think about myself, or do I care for others? We ourselves make these decisions and no one else. There are no limits to our ambition," the 93-year-old politician said.
Carter has denounced sex-selective abortions in the past as well. Back in a 2014 interview with late night host David Letterman, he said that the infanticide of female babies was the "worst human rights abuse on earth."
"Many people are missing and they're all girls who are missing," he warned at the time.
In a 2015 interview with The New York Times, Carter admitted that abortion was the "only conflict" he's had between his political duties and Christian faith.
"I have never believed that Jesus would be in favor of abortion, unless it was the result of rape or incest, or the mother's life was in danger. That's been the only conflict I've had in my career between political duties and Christian faith," he revealed at the time.
Liberty President Jerry Falwell Jr. previously explained in a statement why he decided to invite Carter to deliver the commencement speech:
"While Christians may disagree about what role government should play in serving those in need, the Liberty University community along with all Christians worldwide are united in the belief that we, as individuals, should provide food and shelter to the poor.
"President Carter, both during his time in office and since, has followed the teachings of Christ by serving the poor and loving his neighbors. I am thrilled that he will be sharing the story of his life of faith in action to our graduates and their families," Falwell Jr. added.