Jimmy Carter Says He Doesn't Know If Gandhi Is in Hell for Not Being a Christian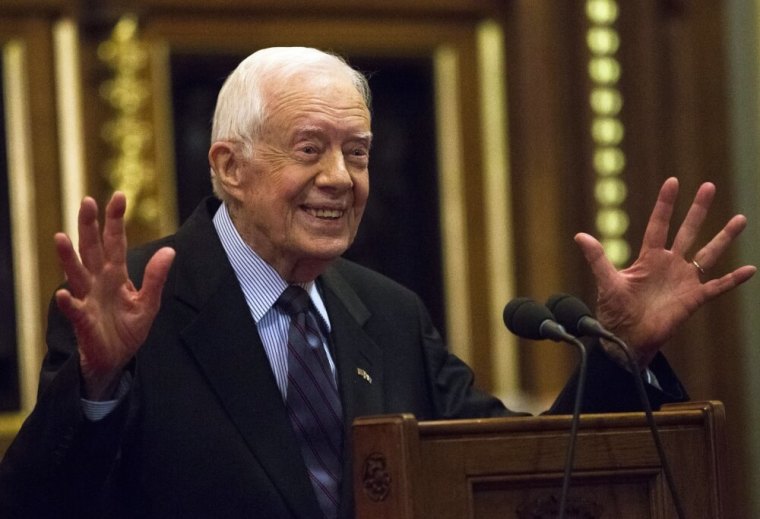 Former President Jimmy Carter said he does not know whether someone like Gandhi would go to hell for not being a Christian.
Journalist Nicholas Kristof of The New York Times described Carter as a "longtime Sunday school teacher and born-again Evangelical" but of a "more liberal bent" than Christian apologist the Rev. Tim Keller.
Kristof said in the interview with Carter that a problem he finds with evangelicalism is that it would consign someone like Mahatma Gandhi — who led India's independence movement through nonviolent campaigns — to hell, given the belief that people are saved only through a personal relationship with Jesus.
When asked whether he agrees with such a view, Carter replied:
"I do not feel qualified to make a judgment. I am inclined to give him (or others) the benefit of any doubt."
Gandhi did not identify as a Christian but believed in the "fundamental Truth of all great religions of the world," and described Jesus Christ as one of the "greatest teachers humanity has ever had."
Carter said that he does not take everything in the Bible in a literal sense, but affirmed his faith in miracles, such as the resurrection of Christ.
"Having a scientific background, I do not believe in a six-day creation of the world that occurred in 4004 B.C., stars falling on the earth, that kind of thing. I accept the overall message of the Bible as true, and also accept miracles described in the New Testament, including the virgin birth and the Resurrection," Carter said.
He explained that his belief in Christ's resurrection from the dead does not require scientific proof, but is rooted in his Christian faith.
"My belief in the resurrection of Jesus comes from my Christian faith, and not from any need for scientific proof. I derive a great personal benefit from the totality of this belief, which comes naturally to me," he added.
Kristof asked whether Carter would consider him a Christian, given that he "aspires to follow Jesus' teachings," but questions all the miracles surrounding Christ, such as His virgin birth and the physical resurrection, to which Carter replied:
"I do not judge whether someone else is a Christian. Jesus said, 'Judge not, ...' I try to apply the teachings of Jesus in my own life, often without success."
Carter admitted that sometimes he struggles with doubt, but explained that he eventually decides what to believe in.
"This is based on what I consider to be the perfect life and example of Jesus," he said.
The former president admitted in his interview with Kristof that he finds some contradictions within the Gospels but argued:
"I look on the contradictions among the Gospel writers as a sign of authenticity, based on their different life experiences, contacts with Jesus and each other. If the earlier authors of the Bible had been creating an artificial document, they would have eliminated disparities.
"I try to absorb the essence and meaning of the teachings of Jesus Christ, primarily as explained in the letters written by Paul to the early churches. When there are apparent discrepancies, I make a decision on what to believe, respecting the equal status and rights of all people."
Carter has stirred controversy in the past with his support for liberal interpretations of the Bible. In July 2015, he claimed that Jesus would back gay marriage.
"I believe Jesus would approve gay marriage, but that's just my own personal belief. I think Jesus would encourage any love affair if it was honest and sincere and was not damaging to anyone else. And I don't see that gay marriage damages anyone else," he said at the time.
Carter's views countered those of some big-name preachers, such as Pastor Robert Jeffress of the 11,000-member First Baptist Church in Dallas, and the Rev. Franklin Graham, with the latter warning in 2015 that "God's judgment will come" on America because of its legalization of gay marriage.
On other matters, the former president said that he believes in the efficacy of prayer, and revealed that he teaches in his weekly Bible lesson that God is available at any moment to connect with and comfort people.
Carter offered that it is "usually impossible" to convince skeptics of the power of prayer.
"For me, prayer helps internally, as a private conversation with my creator, who knows everything and can do anything," he said, in regard to people who would pray for limbs to be restored.
"If I were an amputee, my prayer would be to help me make the best of my condition, to be a good follower of the perfect example set by Jesus Christ and to be thankful for life, freedom and opportunities to be a blessing to others."