American-Israeli author Joel C. Rosenberg pleads with Israel to evacuate Christians from Gaza
'There are no safe havens for Christians in southern Gaza,' Joel Rosenberg warns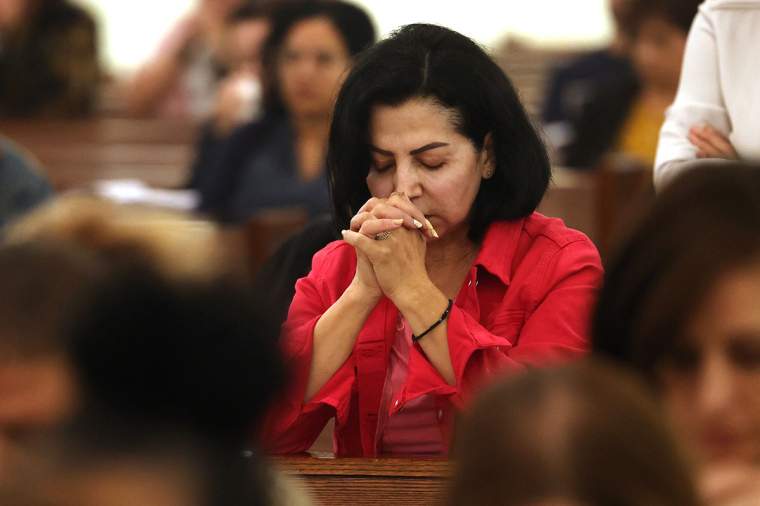 Bestselling Evangelical American-Israeli author Joel C. Rosenberg penned an open letter on Friday urging Israeli leaders to evacuate the roughly 1,000 Palestinian Christians in northern Gaza to the West Bank amid fears Hamas will murder them if they move south.
"Palestinian Christians in northern Gaza are in extreme danger, and the situation is becoming worse by the hour," wrote Rosenberg, who is editor-in-chief of All Israel News and works closely with Evangelical leaders in the U.S.
As an Israeli and an Evangelical, I urge @IsraeliPM@Netanyahu, Minister @gantzbe, the @IDF chief of staff and National Security Advisor @Tzachi_Hanegbi to protect Palestinian Christians in Gaza—but do not move them South or they face genocide from Hamas. https://t.co/LTEzbD1KSnpic.twitter.com/BfDT7n13BA

— Joel C. Rosenberg (@JoelCRosenberg) November 17, 2023
Emphasizing that Palestinian Christians support neither Hamas, radical Islamic terrorism nor the attacks against Israel, Rosenberg said they find themselves in an "impossible situation" because they have nowhere to find safety in Gaza amid the bombardments.
"They just want to live in peace and be free to follow the Bible and love their neighbors," he said.
"The policy of the Israeli Defense Forces has understandably — and rightly — been to urge all Palestinians in and around Gaza City to flow to sanctuary areas in the south of the Gaza Strip, where they [will] be safer from Israeli military operations, and have access to food, clean water, and medical care," he wrote, but added that Christians are terrified to move south for fear of facing genocide from Hamas.
Rosenberg went on to explain that Palestinian Christians and Muslims face very different situations. Remembering how they were treated by ISIS in recent years, he said Christians fear similar brutality from Hamas if they move south within the coming days as the IDF has ordered them to do.
"As followers of the crucified and risen Christ — Jesus of Nazareth — they are considered pagans, and heathens, and idol-worshipers by Hamas, Palestinian Islamic Jihad, and all violent Islamist extremists," said Rosenberg, who noted they can "expect no mercy from Hamas and the others in the south."
He said Christians are afraid Hamas will "butcher them," "behead them," and "burn them alive," but "only after raping, torturing, and mutilating them."
Rosenberg went on to cite a friend with direct knowledge of the situation who informed him that tanks have been surrounding the churches where the Palestinian Christians have been sheltering. To the best of his knowledge, Rosenberg said 590 Christians are sheltering in the Catholic Church under the Latin Patriarchate in Gaza City, 350 Christians are in the Greek Orthodox church, and 53 are sheltering in Deir El Balah.
"Already over 20 of them have been killed, and they are very close to our hearts," his Christian friend reportedly told him. "A couple of days ago, four more were injured due to the shelling. We have been in constant contact with them. They are desperate to leave — but not to the South, where it is not safe."
"Dearest Joel, we are asking you in the name of Jesus to help them and find a way to help them while they are in the churches or find another way to get them to a safe place," his friend asked him. "Jesus came to give them life, not death."
Rosenberg urged the Israeli government to allow Christians to evacuate to the West Bank, and said he is "certain that the Palestinian Christians who live in the West Bank will warmly welcome their brothers and sisters from Gaza and make sure they have places to live."
"My Evangelical Christian colleagues all over the world will then do everything possible to work with Christian NGOs and others to provide these Christians the humanitarian aid they desperately need," he added, pleading with Israeli leaders to "move with compassion and speed to rescue these Palestinian Christians in Gaza from genocide."
Christians in Palestine have faced a difficult situation amid the ongoing Israel-Hamas war. Israel admitted last month that an airstrike intended to strike a Hamas command center damaged the compound of the Greek Orthodox Church of Saint Porphyrios, the oldest church in Gaza.
The compound was reportedly sheltering hundreds of people, at least 18 of whom were killed, leading the Orthodox Patriarchate of Jerusalem to accuse Israel of a "war crime."