John McCain Says Brain Cancer Prognosis Is 'Very Poor,' Sometimes Gets Feelings of Fear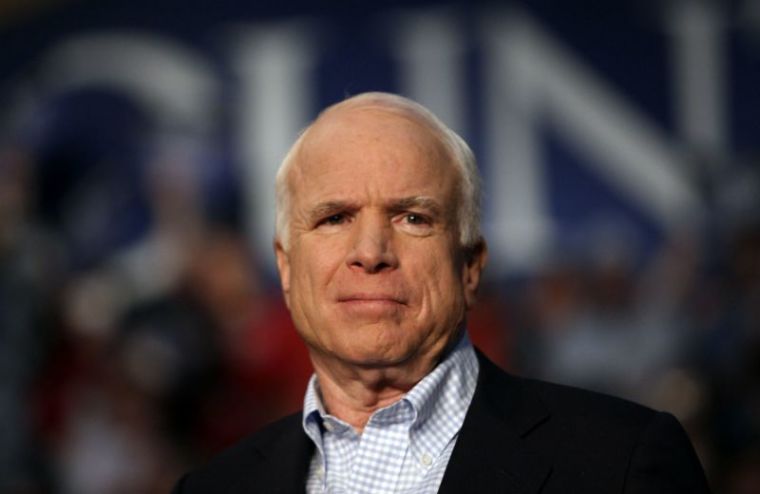 Two months after undergoing emergency surgery for brain cancer in July, U.S. Sen. John McCain, who is currently fighting the disease with both radiation and chemotherapy, said doctors have told him his chances of survival are "very poor."
Speaking with Leslie Stahl on CBS' "60 Minutes" on Sunday, McCain, 81, said he and his wife, Cindy, are now trying to do the best they can to celebrate "a life well lived."
"They (doctors) said that it's very serious, that the prognosis is very, very, serious. Some say 3 percent, some say 14 percent. You know it's a very poor prognosis, so I just said, 'I understand.' Now we're going to do what we can, get the best doctors we can find and do the best we can and at the same time celebrate with gratitude a life well lived," McCain said.
The father of four — who previously survived two plane crashes, being a POW and melanoma — said he first learned he had a problem after doctors found a blood-clot over his left eye during a routine check-up at the Mayo Clinic. He was driving back to his ranch just outside of Sedona, Arizona, when his doctor called.
"I got about 2/3 of the way up and my doctor called and said you gotta come back and I said 'hey, today is Friday. I'll just come in on Monday.' And she said, 'No, you have to come now. It's very serious,'" McCain explained.
He quickly turned his car around and went immediately into surgery.
"They thought it was serious enough they had to act immediately," McCain said.
Despite his prognosis, McCain continues his work in Washington by starting his days with chemotherapy and radiation. He told Stahl that he is now more engaged because he knows he doesn't have a lot of time.
"I am more energetic and more engaged as a result of this because I know that I've got to do everything I can to serve this country while I can," he said.
When he thinks about his mortality, McCain said sometimes he feels fear but then remembers he lived a full life.
"I have feelings sometimes of fear of what happens. But as soon as I get that, I say, 'Wait a minute. Wait a minute. You've been around a long time, old man. You've had a great life. You've had a great experience,'" he said.
In the end, he wants his memorial service to be held at the Naval Academy and for people to remember that he served.
"I want ... when I leave, that the ceremony is at the Naval Academy. And we just have a couple of people that stand up and say, 'This guy, he served his country,'" McCain said.
He explained that even though President Donald Trump is yet to apologize for dismissing his record of service as a war hero, he would be willing to reconcile a strained relationship with the president.
As a naval aviator, McCain was shot down during the Vietnam War then held prisoner for more than five years in Hanoi. In 2015, while on the campaign trail, Trump said of McCain: "He's not a war hero. He's a war hero because he was captured. I like people who weren't captured."
When asked if he was offended by the president's comments, McCain said: "If I took offense at everybody who has said something about me, or disparaged me or something like that — life is too short. You've gotta move on."
Asked if he feels the president is fit for office, he replied: "First of all, I believe in our system. The American people selected Donald Trump to be president of the United States. We have to respect that. Second of all, he has a very strong national security team around him who I know has significant influence over him."