John Piper Identifies 'One Kind of Sin' Believers Must Instantly Repent Of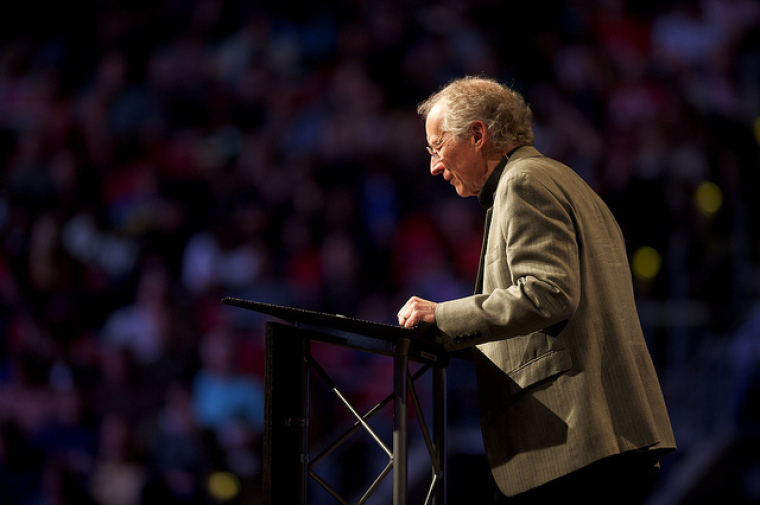 Reformed theologian John Piper has said that the "one kind of sin" believers must "take care of right away" is the sin that hurts others.
Responding to a question about how to make time to confess sin amid the busyness of life, Piper, the founder of DesiringGod.org and former lead pastor of Bethlehem Baptist Church in St. Paul, Minnesota, explained that Christians should immediately interrupt their busy schedules to repent of sins that hurt other people.
"If we discern that the words we have spoken or what we've done has wounded somebody or caused them to sin, I think Jesus' teaching in Matthew 5:23–24 about leaving our gift at the altar and hastening toward reconciliation really does apply in principle here," he said. "If they're hurt, then let's just stop what we're doing, apologize, and seek to make it right."
The pastor contended that repentance doesn't need to be long-winded; God would "gladly receive from us a two- or three-second whispered, 'Oh Lord, I'm so sorry. Please help me. Please forgive me.'"
"We must remember that there is no merit assigned in the Bible to any particular length of confession or repentance or remorse for sin," he offered. "In fact, when Jesus teaches the Lord's prayer and how to apologize to God for sin, it's pretty brief: 'Forgive us our debts as we forgive our debtors' (Matthew 6:12). Pray like that."
"Watch out for getting into a mindset of negotiation with God in which length of time in repentance and remorse secures your acceptance," he cautioned. "It's the other way around. It's the acceptance through Christ that leads us to repentance, not vice versa."
Still, Piper emphasized the need for "extended time with God," "not because lengthy repentance is more acceptable than brief repentance, but because we need time to dig into our souls with Scripture in order to discern — dig down and discern — where did that attitude come from? Why does that keep popping up in my life?"
Acknowledging that it can be difficult to make time for repentance amid the busyness of life, the pastor advised readers to "pause if necessary to make right with others, any hurt you do them, and look forward to the extended times that God is eager to have with you as much as you are to have with Him."
"These are time when you can go deeper," he explained. "He knows your heart in the moment, and He's in no hurry to get to those other times. He is with you all the way.
Previously, Piper explained that to truly repent, it's helpful to specifically name your sins when praying.
"The sins are specific," he said. "They've come out of hiding. I look them in the eye. I'm not whining about feeling crummy. I'm apologizing to Christ for not doing specific things that he commanded.
"I'm broken, and I'm angry at my sin," he said. "In this conflict, I hear the promise, 'If we confess our sins, he is faithful and just to forgive us our sins and to cleanse us from all unrighteousness' (1 John 1:9). Peace rises. Now, prayer feels possible and right and powerful again."