John Piper: 8 Biblical Reasons Jerry Falwell Jr. Is Wrong About Guns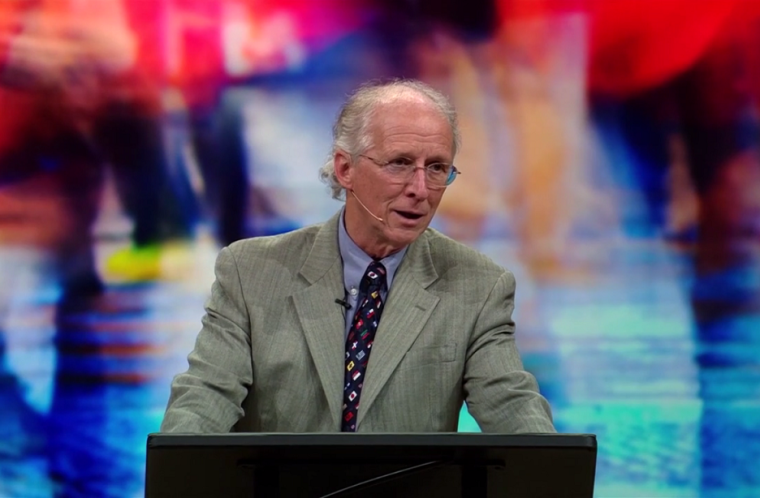 Christian theologian and Bethlehem College & Seminary Chancellor John Piper believes that Liberty University President Jerry Falwell Jr. was wrong to encourage students to acquire guns.
In an op-ed on DesiringGod.org, Piper criticized Falwell's remarks at a recent convocation where he encouraged Liberty students to acquire conceal-carry permits and guns so that they can defend against a potential terrorist attack and also explained that the the school will soon allow guns in on-campus housing.
Piper wrote that Falwell's comments could forge the disposition in Christian students to use lethal force to defend against harmful adversaries.
"Does it accord with the New Testament to encourage the attitude that says, 'I have the power to kill you in my pocket, so don't mess with me'?" Piper asked. "My answer is, No."
1. The Apostle Paul called Christians not to avenge themselves, but to leave it to the wrath of God.
Piper writes that the Apostle Paul called on Christians to "return good for evil" and added that God gave the sword to government rulers so that they could pursue the wrath of justice for the world.
Piper cites passages in Romans where the rights and duties of the government were laid out and where it was explains how Christians should treat their enemies.
"[A]ny claim that in a democracy the citizens are the government, and therefore may assume the role of the sword-bearing ruler in Romans 13, is elevating political extrapolation over biblical revelation," Piper writes. "When Paul says, 'The ruler does not bear the sword in vain' (Romans 13:4), he does not mean that Christians citizens should all carry swords so the enemy doesn't get any bright ideas."
2. Peter teaches us that Christians should expect and accept unjust mistreatment without retaliation.
Piper cites nine verses in 1 Peter to explain that it is honorable in the eyes of God to be persecuted and not retaliate.
"Peter's aim for Christians as 'sojourners and exiles' on the earth is not that we put our hope in the self-protecting rights of the second amendment, but in the revelation of Jesus Christ in glory (1 Peter 1:7, 13;4:13; 5:1)," Piper notes. "His aim is that we suffer well and show that our treasure is in heaven, not in self-preservation."
3. The whole tenor of Jesus' counsel was to show how to handle hostility with suffering.
Piper argues that teaching students to carry guns will make students less willing to become martyrs and lay down their lives in the name of Christ if given the opportunity.
"They will lay their hands on you and persecute you, delivering you up to the synagogues and prisons, and you will be brought before kings and governors for my name's sake," Piper cites Luke 21. "This will be your opportunity to bear witness."
4. 'For all who take the sword will perish by the sword.'
Piper cites Matthew 26:25 when Jesus said to Peter, "Put your sword back into its place. For all who take the sword will perish by the sword."
Piper adds that Christians are supposed to be secure in Christ, not secure in knowing that they have a gun to defend themselves.
"I think I can say with complete confidence that the identification of Christian security with concealed weapons will cause no one to ask a reason for the hope that is in us," Piper wrote. "They will know perfectly well where our hope is. It's in our pocket."
5. 'Turn the other cheek'
Piper cites Matthew 5:38–39, which states "Do not resist the one who is evil. But if anyone slaps you on the right cheek, turn to him the other also."
"Jesus strikes the note that the dominant (not the only) way Christians will show the supreme value of our treasure in heaven is by being so freed from the love of this world and so satisfied with the hope of glory that we are able to love our enemies and not return evil for evil, even as we expect to be wronged in this world," Pipe wrote.
6. The early church faced persecution without violent resistance.
Piper asserts that in the book of Acts, there was never any indication that Paul ever even thought about using a weapon to defend himself against his adversaries.
"He was willing to appeal to the authorities in Philippi (Acts 16:37) and Jerusalem (Acts 22:25)," Piper wrote. "But he never used a weapon to defend himself against persecution."
7. Jesus did not tell apostles to buy swords so they could escape persecution.
Although Jesus tells his followers in Luke to go buy swords, Piper argues that Jesus did not intend for his apostles to have swords in order to use them to violently defend against persecution.
"Jerry Falwell Jr. said in his clarifying remarks on Dec. 9: 'It just boggles my mind that anybody would be against what Jesus told his disciples in Luke 22:36,'" Piper recalled. "If that is the correct interpretation of this text, my question is, 'Why did none of his disciples in the New Testament ever do that — or commend that?' The probable answer is that Jesus did not mean for them to think in terms of armed defense for the rest of their ministry."
8. The unique calling of the church is to live in reliance on heavenly protection.
"This is about the people whom the Bible calls 'refugees and exiles' on Earth, namely Christians. It's about the fact that our weapons are not material but spiritual (2 Corinthians 10:4)," Piper wrote. "It is an argument that the overwhelming focus and thrust of the New Testament is that Christians are sent into the world — religious and non-religious — 'as lambs in the midst of wolves' (Luke 10:3)."
"And that exhorting the lambs to carry concealed weapons with which to shoot the wolves does not advance the counter-cultural, self-sacrificing, soul-saving cause of Christ," Piper continued.
Contact: <ahref="mailto:samuel.smith@christianpost.com">samuel.smith@christianpost.com,
@IamSamSmith
(Twitter)