Hillary Clinton Accuses Liberty University President Falwell of Aiding ISIS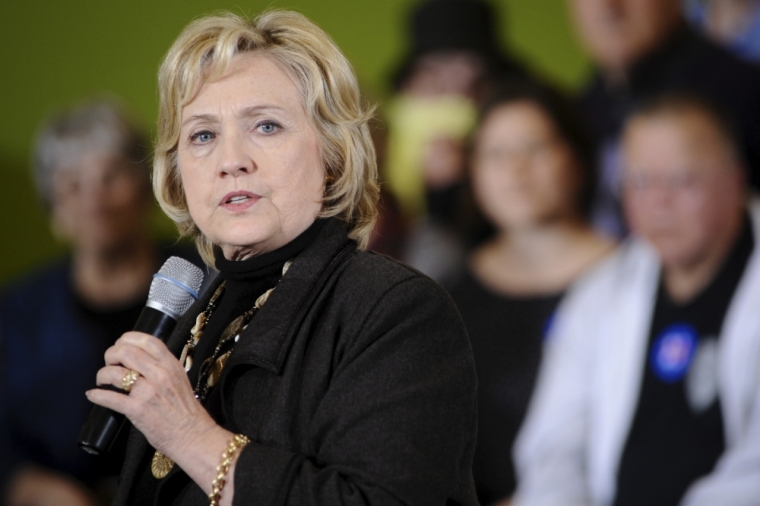 In the wake of Liberty University President Jerry Falwell Jr. call to students and faculty to arm themselves against Muslim terrorists, Hillary Clinton accused the school's president of "hateful rhetoric."
"This is the kind of deplorable not only hateful response to a legitimate security issue," Clinton declared Sunday to ABC's George Stephanopoulos. "But it is giving aid and comfort to ISIS and other radical jihadists."
Falwell urged students and faculty during Friday's convocation at Liberty to arm themselves to help prevent attacks against terrorists intending to do harm on the American public.
"I've always thought if more good people had concealed carry permits, then we could end those Muslims before they walked in," Falwell said Friday.
He later clarified that he meant to say "terrorists" and not specifically Muslims. Saturday Falwell told the Associated Press that he was specifically referring to the two alleged assailants in the San Bernardino shooting.
Falwell encouraged students and faculty to acquire concealed carry permits and added during his convocation remarks, "It just blows my mind that the president of the United States [says] that the answer to circumstances like that is more gun control," he declared.
Interrupted for applause repeatedly during his remarks, he declared, "I just wanted to take this opportunity to encourage all of you to get your permit.
"We offer a free course. Let's teach them a lesson if they ever show up here," said Falwell.
Falwell argued that "if some of the people in that community center have what I have in my back pocket right now …."
Falwell then asked if it was illegal to pull it out right now, referring to his firearm and then preceded to dismiss the crowd to raucous cheering.
Liberty University declined CP's request for an interview with Falwell and instead referred us to a statement released Monday, which declared:
"When hearing the remarks in their full context, the public can see that there was no attempt to incite hate against anyone, much less all Muslims. President Falwell's subsequent clarifications emphasized what was clear to those who were present.
"His remarks were a call to arms for self-defense and a criticism of political leaders who see the answer to such tragedies as more gun control. More gun control leads to more places and circumstances where innocents are unarmed and unable to defend themselves," the statement added.
Liberty's statement went on to argue for the importance of Second Amendment rights for American citizens.
After the December 2 terrorist shooting in San Bernardino, Hillary Clinton immediately tweeted out her support for more gun control, saying, "I refuse to accept this as normal. We must take action to stop gun violence now. –H."
ABC News reported that Virginia Governor Terry McAullife called Falwell's statement "reckless."
"My administration is committed to making Virginia an open and welcoming Commonwealth, while also ensuring the safety of all of our citizens," McAuliffe declared. "Mr. Falwell's rash and repugnant comments detract from both of those crucial goals."
In an address to the nation Sunday, President Obama urged more respect and admiration for Muslim-Americans.
"Muslim Americans are our friends and neighbors, our coworkers, our sports heroes, and yes, they are our men and women in uniform who are willing to die in defense of our country. We have to remember that," declared the president.
In a statement shared with the Christian Post, Council on Islamic Relations (CAIR) Executive Director Nihad Awad, praised the president's address:
"In light of the recent hate incidents targeting the American Muslim community and the hate-filled rhetoric we hear from a number of public figures, we welcome President Obama's strong statement calling for national unity and rejecting anti-Muslim 'suspicion and hate,'" said Awad.
"The president was clear in disassociating Islam from the thugs of ISIS, who are the common enemy of all Americans and of all Muslims worldwide," he added.