Judge Strikes Down Florida Same-Sex Marriage Ban for Miami Area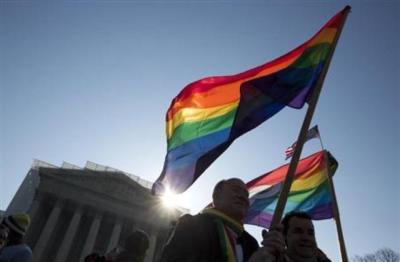 A Miami-Dade County judge Friday overturned Florida's ban on same-sex marriage in a decision that applies only to that county. While this is the second county that struck down the state's ban this month, marriage licenses will not be issued so that the rulings can be appealed.
Circuit Judge Sarah Zabel agreed with last week's ruling by Monroe County Circuit Judge Luis Garcia, saying the 2008 constitutional amendment approved by the state's voters violates the right to equal protection under the law guaranteed by the U.S. Constitution's 14th Amendment, according to The Associated Press.
"Preventing couples from marrying solely on the basis of their sexual orientation serves no governmental interest," Zabel wrote in her 36-page ruling. "It serves only to hurt, to discriminate, to deprive same-sex couples and their families of equal dignity, to label and treat them as second-class citizens, and to deem them unworthy of participation in one of the fundamental institutions of our society."
However, the judge stayed the effect of her ruling, allowing the state to take its time to appeal, just as Judge Garcia had done.
Attorney General Pam Bondi, a Republican, filed an appeal notice soon after the ruling Friday.
The state's constitutional amendment defined marriage as a union between one man and one woman.
Federal judges in many states have struck down state amendments and laws banning same-sex marriage as unconstitutional since the U.S. Supreme Court last June squashed a key part of the federal Defense of Marriage Act, or DOMA.
"Notably absent from this protracted march towards social justice was any progress for the gay, lesbian, bisexual, and transgender community until quite recently," Zabel wrote. "However, as evidenced by the avalanche of court decisions unanimously favoring marriage equality, the dam that was denying justice on this front has been broken."
The case was filed by the Equality Florida Institute and six Florida couples.
"Today's ruling is a victory for thousands of couples who have been denied access to marriage," Institute's CEO Nadine Smith said in a statement. "It is a victory for children who have longed for the day when their families would be respected equally under the law. And it is a victory for all Floridians who share the values of fairness and equality under the law."
However, supporters of the ban say the 2008 measure must remain as it was approved by the state's voters.
"With one stoke of a pen, a mere trial judge has attempted to overthrow an act of direct democracy by five million Floridians who defined marriage as the union of one man and one woman," John Stemberger, president of Florida Family Policy Council, was quoted as saying.
The Council had pushed for passage of the ban.
Same-sex marriage is currently recognized in 19 states – California, Connecticut, Delaware, Hawaii, Illinois, Iowa, Maine, Maryland, Massachusetts, Minnesota, New Hampshire, New Jersey, New Mexico, New York, Oregon, Pennsylvania, Rhode Island, Vermont, and Washington – and the District of Columbia.