Judge Strikes Down New Jersey City's Buffer Zone Ordinance Against Pro-Life Groups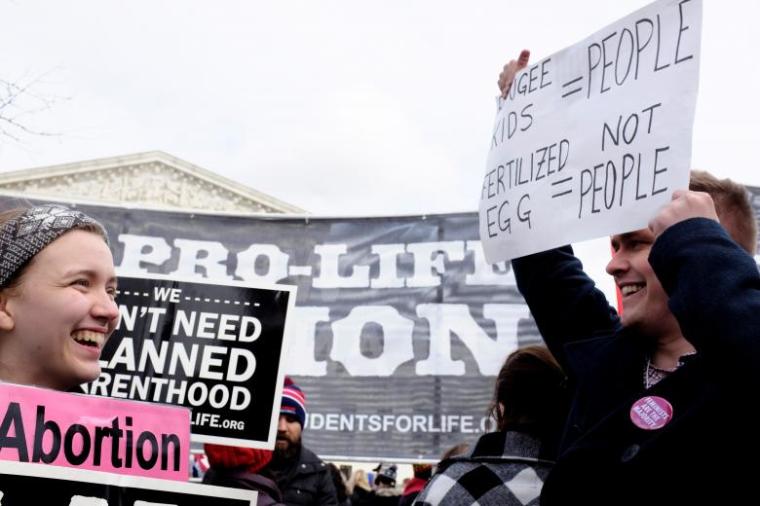 A federal judge has struck down a New Jersey city's ordinance that barred pro-life activists from being closer than eight feet from the entrance of abortion clinics.
District Court Judge Susan D. Wigenton ruled last week that the city of Englewood's ordinance "violated the First Amendment" when it created "buffer zones" for pro-life protesters.
"Defendant created a sweeping regulation that burdens the free speech of individuals, not just in front of the clinic, but at healthcare and transitional facilities citywide," wrote Judge Wigenton.
"[T]he ordinance creates a buffer zone around all healthcare facilities in the city, despite the fact that the evidence shows that the ordinance was adopted in response to protestors outside of one specific healthcare facility — the [abortion] clinic."
Wigenton also concluded that Englewood failed to "employ alternative, less restrictive means that were available."
"Instead, Defendant puts forth speculative assertions that it tried and/or seriously considered less restrictive alternatives, such as increased police presence and injunctive relief, prior to adoption of the amended ordinance," continued Wigenton.
"Defendant did not prosecute any protestors for activities taking place on the sidewalk outside of the clinic in the five years prior to the adoption of the ordinance; and Defendant did not seek injunctive relief against individuals whose conduct was the impetus for the Ordinance."
In 2014, Englewood city officials passed an ordinance creating an eight-foot buffer for healthcare facilities. The move was in response to reported increased tension at a local abortion clinic named Metropolitan Medical Associates.
"The ordinance would ban individuals from "knowingly" entering medical facilities or standing on public ground within an eight-foot radius of an entrance, exit point or driveway," reported NJ.com in 2014.
"Should the protesters fail to observe the ordinance, they could be issued citations or sentenced to 90 days in jail."
In April 2015, Christian pro-life activist Jeryl Turco sued Englewood over the ordinance. Turco was represented by the American Center for Law and Justice.
Regarding Wigenton's decision, the ACLJ described the ruling as a "big pro-life free speech victory" in a statement released last Thursday.
"We at the ACLJ are certainly pleased that our efforts to secure the necessary breathing space for pro-life free speech in Englewood have come to fruition in this case," stated the ACLJ.
"Sidewalk counselors such as Jeryl Turco are on the front lines of the battle for hearts, souls, and lives on the public spaces outside of abortion businesses all across this country."