Justin Bieber New Tattoo 2013: Bible's Psalm 119:105 - 'Your Word Is a Lamp for My Feet' (PHOTO)
Pop star Justin Bieber, who has been vocal about his Christian faith over the years, has displayed a new Christian-themed shoulder tattoo while performing in Singapore earlier this week.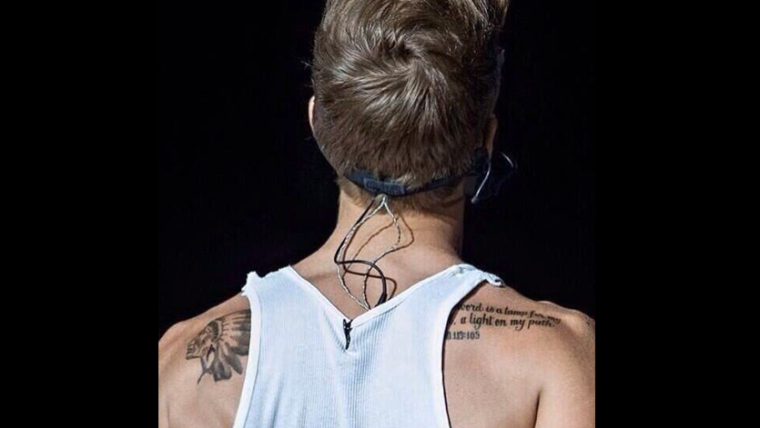 Photographs snapped of Bieber during his high-energy performance at the Formula One Singapore Grand Prix show that his right shoulder has recently been tattooed with words from the bible, Psalm 119:105, that reads: "Your word is a lamp for my feet, a light on my path."
This latest tattoo adds to Bieber's growing collection of ink on his body. Many of the young pop star's previous tattoos are religious-themed; he has the word Yeshua, Hebrew for Jesus, written in Hebrew letters on his torso, an image of Jesus wearing a crown of thorns on his left calf, and hands in prayer, also on his left calf. The 19-year-old singer's total tattoo count is now at 21, with some also being non-religious, including a floral motif on his upper arm and the logo of the Canadian ice hockey team on his left shoulder.
Bieber previously told talk show host Ellen DeGeneres that his favorite types of tattoos are the "classic" ones.
The singer's most recent religious-themed tattoo comes as no surprise to his fans, as he has never been shy of expressing his Christian faith in public. In an April interview with Teen Vogue, Bieber said that he believes he has had such a successful entertainment career because it is a part of God's bigger plan.
Bieber said his success has come to him "not just because I'm talented, but because God had a purpose for me to just help people."
The mega-star went on to note that although he considers himself to be religious, he is in no way perfect: "I'm spiritual... although I slept in [and missed] church yesterday. I haven't been to church in so long, and I planned on going, and I slept in. I was upset. It's all good. God forgives me."
Earlier in September, Bieber tweeted that he had attended a Sunday sermon delivered by Hillsong NYC church Pastor Carl Lentz that made him "break down," writing: ""Love to my guy @carllentzNYC for the amazing sermon at church this morning. Love you man. I broke down today. Thank (you)."
Despite of his outspoken faith, some remain critical of Bieber's actual spirituality, as the young star has been involved in a number of controversial incidents where his alleged poor public behavior has been plunged into the spotlight. The incidents include putting a fan's cell phone in his pants, and allowing his friends to drive his cars through his Calabasas gated community at dangerously-high speeds.
"Bieber can quote the Bible to the cows come home, but it seems that with each and every religious themed tattoo he gets, it's just a matter of time before he ends up in the headlines because of inappropriate behavior. Whether it's grabbing his crotch in front of his teenaged fans on stage or making his neighbors' lives uncomfortable with all the speeding cars coming from his house, he continues to make his own rules. Bible tattoos are nice, but it's what you do with them that matters," the Examiner wrote.
Here is a related video:
Justin Surprises 4-Year-Old Superfan Fighting Cancer "May God bless her"