Kanye West's 'Holy Spirit' Church Clothes sold Easter Sunday at Coachella blasted as too pricey
Kanye West's 'Holy Spirit' Church Clothes sold Easter Sunday at Coachella blasted as too pricey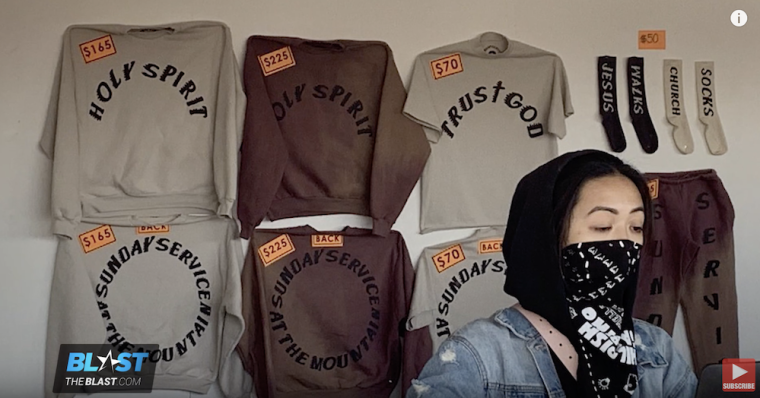 Kanye West brought his Sunday Service event to Coachella this year for an Easter Sunday performance where he introduced a limited edition clothing line he created called Church Clothes.
West was joined at Coachella by his friends Chance The Rapper, DMX, Kid Cudi, Teyana Taylor, and Ty Dolla $ign for an Easter worship service held at the music festival. Off to the side of the event, the hip-hop trailblazer featured his limited edition Church Clothes in tents for attendees to pre-order.
The collection also appeared on West's official online shop but is no longer available on his site. Reports claim that Church Clothes are under West's YEEZY name brand templates and items won't be shipped for an estimated four to five weeks.
The merchandise, all sporting simple designs, are mostly off-white or maroon-dyed. The fashion designer's line features T-shirts, crewnecks, long sleeves, sweatpants, socks, and ponchos with Christian phrases.
A pair of cotton sweatpants with the print "Sunday Service" cost $195. Matching crewnecks and hoodies with "Holy Spirit" are $225 each. A T-shirt with "Trust God" on the front cost $70. The poncho was being sold for $75, and a two-pack pair of "Jesus Walks" socks for $50.
After the concert, several people took to social media and slammed West for selling overpriced merchandise at a worship service. However, Adam Tschorn of the Los Angeles Times disagreed with critics.
"If a $50 two-pack of rib-knit 'Jesus Walks' and 'church clothes' socks serves as an 'I was there' souvenir to that kind of had-to-be-there moment, it feels like an outright bargain," he wrote.
TMZ reported that over 50,000 people were in attendance and it appears that many of the clothing items have sold out. But some pieces are being sold on eBay.

The famous Kardashian sisters were on "Jimmy Kimmel Live" last month where Kim, Kourtney and Khloe revealed what actually goes on at West's Sunday Service events.
When asked if West's Sunday Service was a church or not, his wife, Kim, answered: "We didn't really have a name for it because it's more just like a healing experience."
Pegged "emotional" and a "musical experience," West's Sunday Service takes place every weekend and features a spirited choir. The services are hosted by West and are an invite-only event. Celebrities such as Katy Perry, Orlando Bloom and DMX have all been in attendance.
"There's actually no praying, there's no sermon, there's no word; it's just music," Kim said.
"But it's Christian," Kourtney clarified. Later, she emphasized that they perform West's hit song, "Jesus Walks."
"There's a choir; it's gospel music," Kim added.
In a recent interview with Elle, the KKW beauty guru said Sunday Service was inspired by her husband's personal faith.
"It's definitely something he believes in — Jesus — and there's a Christian vibe. But there's no preaching. It's just a very spiritual Christian experience," she maintained.
Although Sunday Service is exclusive, people can at least enjoy a glimpse of the songs Kim posts on social media every week. Many of her clips feature her daughter, North West, dancing to the music.