Kathie Lee Gifford Creates New David and Goliath Family Musical Experience 'The Little Giant'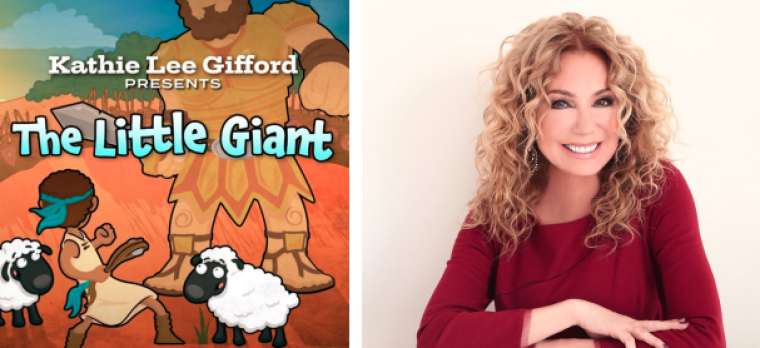 Three-time Emmy Award winner Kathie Lee Gifford has produced an inspiring new family musical experience based off of the account of David and Goliath found in the Bible.
The musical, "The Little Giant," stems from a life-changing trip that Gifford and her late husband, Frank Gifford, took to Israel over four years ago. The "song-filled adventure" is meant to encourage kids and family to embrace and appreciate what makes them unique.
In a promotional video for "The Little Giant," the popular television host revealed that on their visit to the Holy Land, she and her husband traveled to the valley of Elah where David and Goliath fought. Hearing of David's faith again became real to them like never before.
"There in the valley where David defeated Goliath, Frank and I had a life-transforming experience," Gifford said in a statement shared with The Christian Post. "We all had been taught that the miracle was that a young boy took down a giant. But in reality, in those days, any shepherd was experienced in killing big animals that threatened the flock. Just as the Lord had prepared David for that one moment, we realized that God has already given each of us a stone to use. That's the real miracle. The question then becomes 'What is our stone and how will we use it?'"
They were so moved by David's relationship with God and his faith, that Gifford went home and wrote a song called, "What Is Your Stone." That song eventually evolved into a full-blown musical, now known as "The Little Giant," a re-telling of the David and Goliath story in a new contemporary way.
Gifford penned the 13 new songs of the musical with some of her musician friends in hopes that families can go on a journey to find "their special stone."
"The Little Giant" features a voiceover from Gifford's longtime pal Regis Philbin (as Jesse), along with Broadway notables Aidan Gemme (as David) and Gregg Edelman (as King Saul/Goliath), among others. The TV personality plays the role of a made-up character she created named Sheeba, a female sheep that is a part of David's pasture.
"The real message of this was that we all have our stone. The one thing that God has given us to do that no one else can do but you and me," Gifford said in the promotional video. "We each have individual gifts straight from the Lord Himself and how are we gonna throw that stone? How are we gonna use it for His glory to bring his shalom, God's shalom to the chaos of this world?"
"The Little Giant" releases on Sept. 29 through New Haven Kids and will be distributed by Provident Music Distribution and SONY Music Distribution.