Katy Perry 'Dark Horse' Meaning: Grammy's 'Satanic' Performance About Drugs? (VIDEO)
Katy Perry's "Dark Horse" performance at the 2014 Grammy Awards has been criticized by many for its dark theme and portrayal of witchcraft and satanic symbolism. However, even though the somewhat vague song lyrics contain references to love and witchcraft, the meaning behind her "Dark Horse" song may in fact be drug addiction.
The pop singer departed from her usual bubbly themes Sunday with a Grammy performance some called satanic, and the creepy performance had many seeking answers as to what the song really means.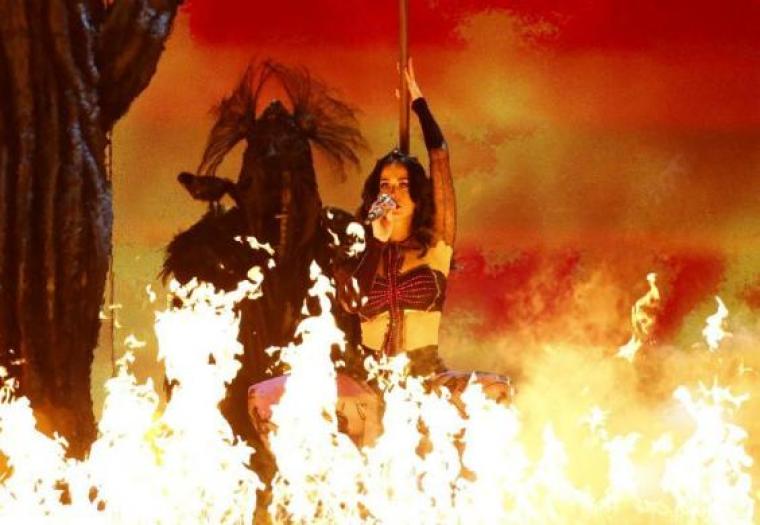 Katy Perry's "Dark Horse" meaning on the surface is about a witch warning someone not to fall in love with her. The singer elaborated to during the E! pre-Grammy show, saying her performance was inspired by one of her "favorite" Stevie Nicks lyrics: "Which witch is which?"
"It's kind of a juxtaposition," she explained to MTV News of the single to her latest album, Prism. "It's got me, a pop artist … and the lyrics are kind of witchy and dark, as if I was a witch warning this man not to fall in love with me, and if you do know I'm going to be your last."
However, a closer analysis of the song points to a warning away from drug addiction as well. Perry refers to the feeling she gives as "magic," something to make you "levitate," fly "like a bird without a cage" and being "in the palm of your hand"— all references to getting high. Juicy J, who collaborated with a verse on the song as well, says leaving her will make her "cold as a freezer" and says he'll "put her in a coma"— references to the struggle of withdrawal from narcotics.
In addition, Juicy J also becomes more blatant with highlighting the drug warning, saying "Her love is like a drug, I was tryna hit it and quit it / But lil mama so dope, I messed around and got addicted."
The meaning of the song as an anti-drug warning was largely masked by the spectacle of her Grammy's performance, though. Perry emerged out of a crystal ball wearing the cross of the Knights Templar, danced on a broom surrounded by demons, and was finally burned at the stake by roaring flames.
"Um, did we just witness actual witchcraft during Katy Perry's #Grammys performance?" E! News tweeted soon afterwards.
Christian singer Natalie Grant even left the Grammy's early, saying she's "never been more sure" of her choice as a gospel artist.
Despite Perry's similar upbringing as a Christian artist— then, she was Katy Hudson, a pastor's daughter— she recently said she has departed from her evangelical roots and no longer believes in hell.
"I'm not Buddhist, I'm not Hindu, I'm not Christian, but I still feel like I have a deep connection with God," she told Marie Claire. "I pray all the time— for self-control, for humility. There's a lot of gratitude in it."
KATY PERRY live performances 56TH GRAMMY Awards 2014