Katy Perry Grammy Performance Puts Spotlight on Domestic Violence With Help of President Obama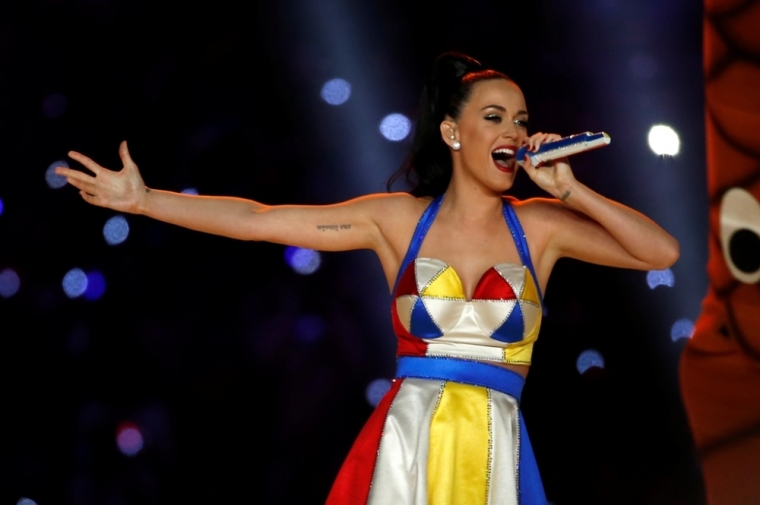 Katy Perry made a huge statement against domestic violence at this weekend's Grammys, with a survivor introducing the performer and President Barack Obama speaking against domestic violence and rape afterward.
"That song is evident of how tough it really was at a certain point," Perry told Billboard of her hit song "By the Grace of God." "I asked myself, 'Do I want to endure? Should I continue living?'"
Brooke Axtell, 34, introduced Perry with a moving speech about her own experience as a survivor of domestic violence and a traumatic childhood. Axtell was trafficked while her mother was in the hospital; after that, she found herself in a violent relationship but finally found the courage to leave. Since then, she has spoken about her experience and is now the director of communications for Allies Against Slavery.
"I am a survivor of domestic violence," Axtell said at the Grammys. "After a year of passionate romance with a handsome, charismatic man, I was stunned when he began to abuse me. I believed he was lashing out because he was in pain and needed help. I believed my compassion could restore him and our relationship. My empathy was used against me. I was terrified of him and ashamed I was in this position."
It's an emotion that many in violent relationships feel, which often leads them to stay in the relationship and possibly risk their lives. However, Axtell said, she found the strength to leave after the man threatened to kill her.
"I knew I had to escape. I revealed the truth to my mom and she encouraged me to seek help at a local domestic violence shelter. This conversation saved my life. Authentic love does not devalue another human being. Authentic love does not silence shame or abuse. If you're in a relationship with someone who does not honor or respect you, I want you to know you are worthy of love. Please reach out for help," Axtell continued.
The Grammys focused a great deal on the issue of domestic violence, hoping to bring more attention to those who may need help leaving or ending an abusive relationship. But Perry's performance did not just begin with a call to serve, it also ended with an important message from President Obama.
"Tonight, we celebrate artists whose music message helps shape our culture and together, we can change our culture for the better by ending violence against women and girls. Right now, nearly one in five women in America has been a victim of rape or attempted rape. And more than one in four has experienced some form of domestic violence. It's not okay, and it has to stop. Artists have a unique power to change minds and attitudes and get us thinking and talking about what matters. And all of us, in our own lives, have the power to set an example," Obama said in the taped message.
"It's on us, all of us, to create a culture where violence isn't tolerated, where survivors are supported and where all our young people, men and women, can go as far as their talents and dreams will take them," he added.
Perry's powerful song, "By the Grace of God" details an intimate moment when the subject feels hopeless, but manages to pull herself up "by the grace of God and put one foot in front of the other. Wasn't gonna let love take me out, oh, that way, no, that way, no, not in the name of love," she sang.
Watch the singer's Grammy performance: