Katy Perry Claims God Spoke and Encouraged Her Before Super Bowl Performance That Ken Ham Called 'Sensuous and Evil'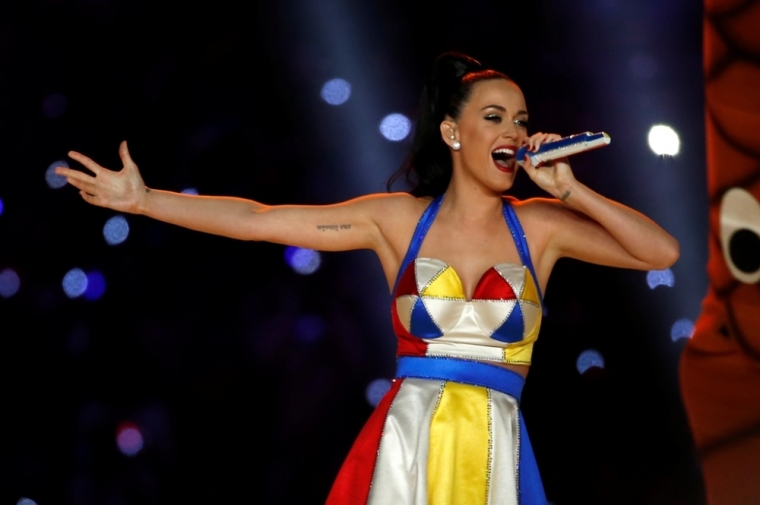 Pop star Katy Perry claims that God spoke to her and encouraged her before she went out to perform at Super Bowl XLIX last weekend. Some Christians, such as Creation Museum CEO Ken Ham, called one of the songs she sang "meaningless garbage" and said it was "sensuous and evil."
"I over prepared myself and did a lot of prayer and meditation," Perry told E! News host Ryan Seacrest at the 57th annual Grammy Awards about how she prepared for the half-time performance.
"It's funny, I was praying and I got a word from God and He says, 'You got this and I got you.' And then I was on top of the lion and a guy, a random guy, just looked on me with a headset that I've never communicated with before and he just looked me straight in the eyes and said, 'You got this.' And I was like, 'Oh, this is God confirming I can do this," she added.
Perry performed a number of her most popular songs at Super Bowl XLIX in Arizona, which was won by the New England Patriots, including the 2008 hit "I Kissed a Girl."
That song, in particular, was criticized by Ham, who called the lyrics "meaningless garbage."
"So what does that mean with today's cultural trends?! I had the words on my TV as she 'sang' — most of them didn't even make sense — meaningless garbage — do church young people follow Katy Perry? I hope not! Sensuous and evil! But it is a sad peek into the real state of much of the coming generation," Ham said.
Perry, who used to perform Christian music before moving away from her roots, quoted Psalm 118:24 before the halftime show.
"Today is the day that the Lord has made! I will rejoice and be glad in it," she wrote to her almost 65 million Twitter followers on Feb. 1.
In a 2013 interview Perry said that she no longer identifies with a specific religion, but still feels that she has a connection with God.
"I'm not a Buddhist, I'm not a Hindu, I'm not a Christian, but I still feel like I have a deep connection with God," Perry said. "I pray all the — time for self-control, for humility. There's a lot of gratitude in it. Just saying 'thank you' sometimes is better than asking for things."
Perry's father, Keith Hudson, is an evangelical minster in Orange County, California, and has said that he's proud of his daughter, despite previously criticizing the messages in her music.
"I don't have a problem. She's gonna do some good ones — she's excited," Hudson said before Perry's Super Bowl performance.