Katy Perry's Pastor Mom Approves of 'American Idol's Cade Foehner, a Minister Who Sings Rock & Roll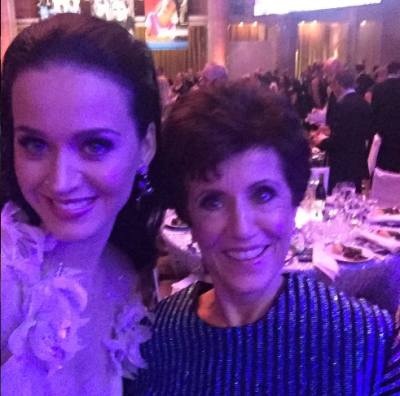 Cade Foehner, a season 16 contestant on "American Idol," revealed to viewers this week that he's a minister, and judge Katy Perry's mother, a traveling evangelist, says he's the "full package."
Foehner is bringing his style of Rock & Roll to the competition and during this week's solo performance of Jimi Hendrix's "All Along the Watchtower" the performer told Perry that he's a Christian minister after she suggested his performance was a bit risky for her minster parents to watch.
Perry's parents, Mary and Keith Hudson, were in the audience for Sunday's episode and chatted with "American Idol" host Ryan Seacrest who asked them to share stories about Perry while the cameras were rolling.
Shortly after, Foehner hit the stage with his rendition of "All Along the Watchtower." He passionately sang the lyrics with his raspy voice and rocked out on the stage strumming on his electric guitar.
When the performance was over, Perry stood up and proclaimed that she saw some things in his presentation that her "minister parents had to shun."
"I'm a minister too," Foehner responded, to which Perry flirtatiously told him he was free to be a "minster" to her at any time.
Foehner's online profile reveals that he's outspoken about his faith and is using his platform to minister about God. His Twitter bio says he wishes to use his social media to "talk Jesus."
On Sunday, before his performance made Perry swoon, the young singer wished everyone a "happy Lord's day" before he reminded them to tune in to Idol.
On Monday, Perry took to Instagram live and watched the 21-year-olds performance with her mother.
Perry was raised Christian by her parents who are traveling Pentecostal ministers. She started singing Christian music but after not making it in that industry, she turned to pop music. The artist says she was a sheltered child because of her religious upbringing, which turned her away from the faith. However, Perry seems to be on her faith journey once again.
While streaming Idol with her mother, Mary, Perry revealed that her mother wasn't always living a holy life.
"That's the guy I danced with at Majorca," Perry's mother said of Jimi Hendrix as they watch Foehner.
The minister also revealed she once smoked marijuana but was not into it.
As they continued to watch the episode, Mary said she thought Foehner had a lot going for him. "I love Cade because he's got the whole package. He's a minister, he's singing rock and roll. The guys good!"
"It wasn't always easy because we have very different viewpoints but now we can agree to disagree in a loving space," Perry said in a recent public therapy session of her differences with her parents.
Mary has said that she and her husband have gone through the pain of seeing their daughter publicly denounce the Christian faith in which she was raised but they continue to do the Lord's work.
In a previous interview published by Charisma magazine on May 31, Hudson spoke of her and her husband Keith's battle to stay encouraged despite their daughter's behavior and the sometimes cold shoulder they get from other Christians because of it.
"People ask us, 'How could you have a daughter like that?'" Mary said in an interview published by Charisma magazine.
"You have to take your mind off your own situation and focus on others if you are ever going to see the light of day," she said.
Follow Jeannie Law on Twitter:
@jlawcp