Ken Ham Shares Noah's Ark Construction Helicopter Footage, Promises It Will Be Among 'Greatest Christian Attractions in the World'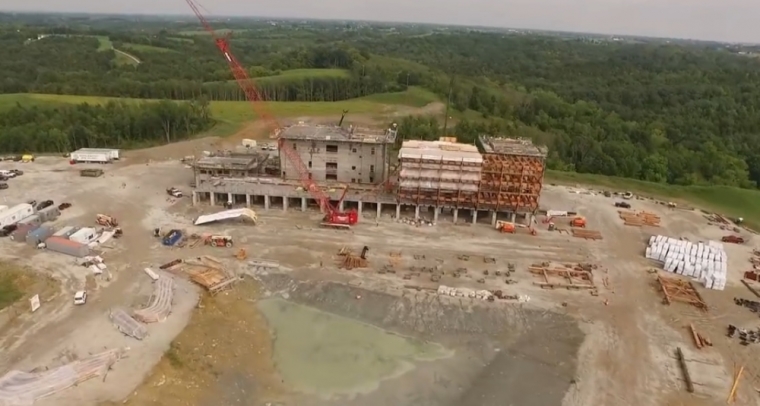 Creation Museum CEO and President Ken Ham has shared a video update taken by helicopter of the Ark Encounter project, showing the construction of the life-size Noah's Ark in Kentucky. Ham said the project will be opened sometime in 2016, and promised it will be one of the "greatest Christian attractions in the world."
"A few days ago, AiG's audio/visual team had the opportunity to record some footage of the life-size Noah's Ark construction site from a helicopter. When you see what they have produced, you will be amazed at the size of what is being built," Ham shared in a Facebook message on Monday.
"The video begins at the parking area (4,000 car spaces), then goes over the shuttle road, and then to the Ark construction site," he continued.
"This will be one of the greatest Christian attractions in the world and will be opened sometime in 2016. (The exact date will be given later this year)."
The Ark Encounter website, which allows people to chip in and help build the $29.5 million project, provides another update sharing how artists are bringing to life the various taxidermy animals that will be featured on the Ark.
Back in June, the 510-foot-long construction was opened to the public.
"Visitors will have the thrill of witnessing firsthand the historic construction of Noah's Ark, being built according to the biblical proportions described in Scripture," Ham said back then.
"Our guests will safely observe the Ark from a viewing spot just outside the actual hard-hat area. It will be their once-in-a-lifetime opportunity to see an Ark being built, which will become the largest timber-frame building in the world."
Answers in Genesis, where Ham is also CEO and president, has meanwhile been suing the state of Kentucky for violating its First Amendment religious freedom rights. AiG is accusing officials of denying its project participation in the state tax incentive program, because of its insistence on religious preference in hiring workers for the Ark Encounter project.
The Associates Press said back in July that the incentive program could be worth as much as $18 million.