Kendrick Brothers Call on Pastors to Lead Unifying Prayer to Bring Revival in America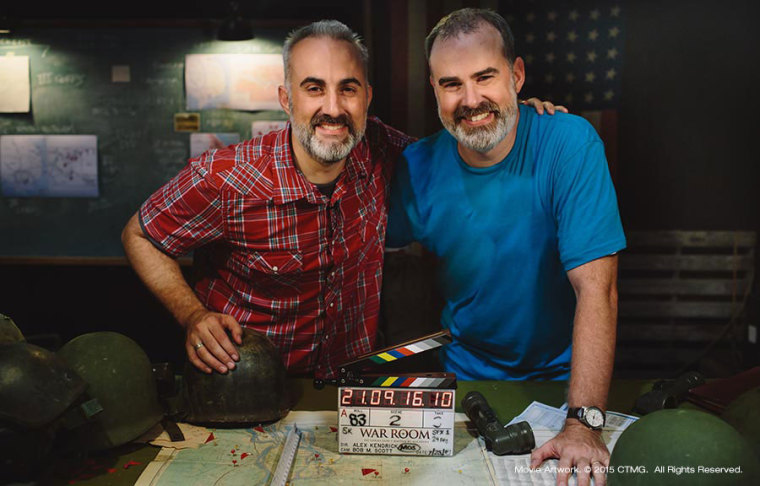 Popular Christian filmmakers Alex and Stephen Kendrick, "the Kendrick brothers" are calling on pastors across the country to lead their congregations in praying more fervently to bring about a revival and a great awakening in America.
"If you look at the history of the Church, the history of revival and the great awakenings, it always was connected to people unifying and praying for the Lord to work in that situation and that's what we want to happen in our generation," Stephen Kendrick says in "A Passion for Parayer" video posted to Fcebook last week. "We cannot walk in the fullness of the Holy Spirit, we cannot evangelize, we cannot walk in unity in the Body of Christ if we're not praying on a consistent basis."
Joining the Kendrick brothers in the plea for a greater emphasis on prayer in the Christian community is Pastor Tony Evans, head of Oak Cliff Bible Fellowship in Dallas, Texas. Evans' daughter, Priscilla, played a leading role in last year's blockuster hit "War Room," which is all about the power of prayer.
"If every pastor can begin setting the stage for what the Bible says about the priority of prayer, the movie ["War Room"] becomes an exclamation mark," Evans says in the video. "When people see prayer works and the church facilitates that with a series of sermons on the priority of prayer and why it's critical that this be a major part of your life not a minor part of your life, I think they will be motivated to motivate their people to maximize prayer as part of the life of their church."
The Kendrick brothers have transformed the faith-based film industry as their independently made films have paved the way for Christian movie success in today's secular culture.
Last year's blockbuster hit "War Room," for example, was made for less than $4 million and grossed nearly $70 million at the box. The brothers hope the success of their films will reignite the culture of prayer in American churches.
The brothers have made incredible strides in their small town of Albany, Georgia, where they serve at Sherwood Baptist Church. Their first four movies — "Flywheel," "Facing the Giants," "Fireproof" and "Courageous" — attracted huge crowds with their positive messages, together grossing over $80 million.
The Kendrick brothers told The Christian Post back in December that simply watching a Christian film isn't enough to keep one's prayer life alive and thriving. Believers, they said, must always encourage one another in prayer so that it does not fade and become lukewarm.
"I hope [is that our message and films] encourage pastors and churches to start praying collectively, together. And then, with other churches, to lock shields with other believers. To reach their communities, to reach their cities. That they say, 'One church isn't going to do this on their own,' it doesn't work that way," Alex says. "You're meant to work with other believers and share resources and partner to go out in mass and reach our cities. And what we'll say to our cities, towns, and communities is 'collectively we share a common goal — to make Jesus Christ famous, to lift his name high, to glorify him, to share with you that He's the answer.'"
"If we return to prayer passionately, actively seeking the Lord and are right with Him and right with each other, God can do amazing things in our lives," he adds.
Stephen echoed his brother's message, saying, "Not only will his blessing fall, but I believe it's a catalyst of a revival in our generation."
Evans concluded, "We will see an explosion of the presence of God as a result of the prayers of his people."
"War Room" is available on DVD/Digital download. For more information on the film or the Kendrick Brothers, visit warroomthemovie.com.