Kenyan suspect in End Times cult deaths dies in custody after hunger strike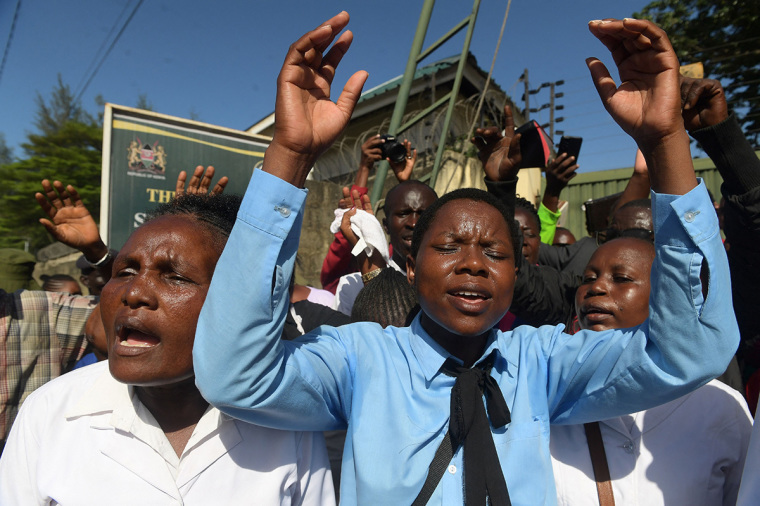 A Kenyan suspect who was among the leaders of a Christian sect and alleged to have instigated the deaths of hundreds of his followers by encouraging them to starve themselves in order to meet Jesus has died in police custody following a 10-day hunger strike.
Joseph Buyuka, accused alongside self-styled Pastor Paul Mackenzie and 28 other individuals, was implicated in the deaths of 337 followers of the church, senior prosecutor Jami Yamina said, according to CNN.
Buyuka, Mackenzie and the other suspects were detained on charges of orchestrating the deaths and overseeing the illegal disposal of the victims' bodies in Shakahola forest, located in southeast Kenya.
Authorities have been exhuming bodies from the forest since April, with the death toll most recently crossing 300 after the discovery of 19 additional bodies earlier this month, as reported by The Associated Press.
Yamina announced that Buyuka died at a hospital in Malindi, a town situated roughly 72 miles from the port city of Mombasa, where he had been transferred from a nearby prison. His death was allegedly a result of "complications from hunger strike and starvation."
"Two other suspects have also been taken ill. Police believe it is related to their hunger strike," Yamina disclosed.
Mackenzie, the leader of the sect, is accused of ordering his followers to starve their children and themselves to death, allegedly promising they would reach Heaven before the end of the world. In a bizarre parallel, his fellow culprits' refusal to eat mirrors the treatment that allegedly led to their members' deaths.
Mackenzie handed himself over to the police in April after the starvation deaths of two children in their parents' custody. Initially released after posting bail, Mackenzie was rearrested on April 15 following the discovery of four additional bodies.
The followers of the church had established their residential community in the expansive forested land of Kilifi County, located on Kenya's coast. In April, local law enforcement intervened at Mackenzie's property, acting on a tip about mass starvation, and discovered dozens of emaciated followers.
The law enforcement had received the tip-off that "ignorant citizens were starving to death under the pretext of meeting Jesus after being brainwashed" by Mackenzie. The controversial televangelist has been under investigation for propagating a doctrine that encourages followers to abstain from food to reach Heaven faster.
Kenya's interior minister, Kithure Kindiki, expressed concern last month that some of Mackenzie's rescued followers were refusing food, with one confirmed death due to starvation at the time.
While Mackenzie and the other suspects have not yet been required to enter a plea, authorities continue their investigations and work to assess the full extent of this emerging humanitarian crisis.