Kim Davis' Office Will Issue Marriage Licenses, but Without Her Signature; Issue Not Settled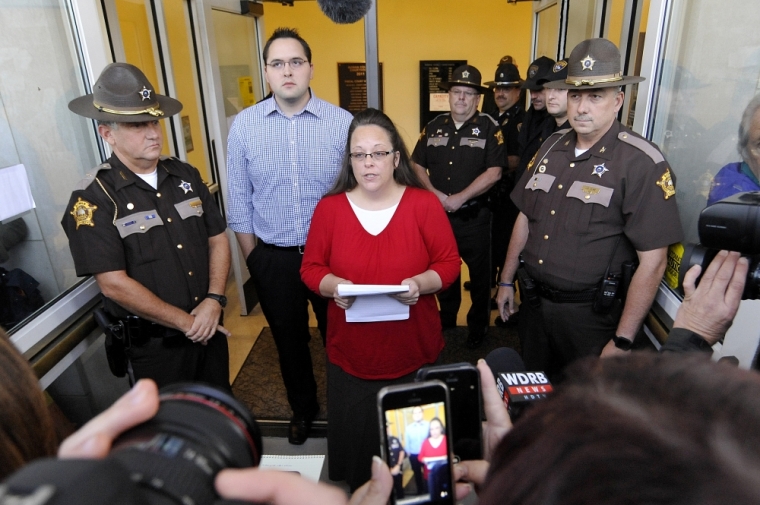 After sitting in jail for six days for refusing to issue marriage licenses to same-sex couples because of her Christian faith, Rowan County, Kentucky clerk Kim Davis returned to work Monday with a 'remedy' to avoid violating her conscience and disobeying God — until further notice, any marriage license issued by her office will not have her name or authorization.
"Effective immediately and until accommodation is provided by those with the authority to provide it. Any marriage license issued by my office will not be issued or authorized by me. I want the whole world to know," said Davis.
The move, said Davis through tears and apparent mental anguish, will not just help her avoid violating her conscience but would allow her to abide by the terms of a court order issued by U.S. District Court Judge David Bunning last Tuesday when she was released from jail.
A part of the terms of Davis' release Tuesday was that she would remove her name from marriage licenses issued by her office. In her announcement Monday, Davis provided details behind the agreement to avoid the conflict including repeated refusals by local authorities to provide "modest accommodation" for her religion.
"I have thought and prayed very hard about what to do. The decisions I have made in this case and the decisions I will continue to make in this case are mine and mine alone. I don't want to have this conflict. I don't want to be in the spotlight. And I certainly don't want to be a whipping post," explained Davis, an Apostolic Christian.
"I am no hero. I'm just a person who has been transformed by the grace of God. [I just want] to work, be with my family, I just want to serve my neighbors quietly, without violating my conscience. And so this morning I am forced to fashion a remedy that reconciles my conscience with Judge Bunning's order," she added.
The defiant clerk made it clear that she loves her job and has no intention of quitting. Since January of 2015, Davis explained that she has been trying to work with local authorities, including Democratic Kentucky Gov. Steve Beshear, to avoid the current conflict by proposing alternative ways of issuing marriage licenses.
"Since January of this year I have been asking Gov. Beshear, the Kentucky legislature and more recently Judge Bunning, one simple thing — an accommodation for my religious beliefs regarding marriage that would allow me to serve the citizens of Rowan County without violating my conscience," said Davis.
"My name or official title on the marriage certificate points to the same person, me, Kim Davis. To affix my name or authority of title on a certificate that authorizes marriage that conflicts with God's definition of marriage as a union between one man and one woman violates my deeply held religious convictions and conscience. For me this would be an act of disobedience to my God," she continued.
Davis said that the marriage license could be issued under another authority such as the commonwealth of Kentucky or Gov. Beshear himself but said local authorities repeatedly rejected those viable alternatives.
"Because my pleas for modest accommodation have been refused or not acted upon I have been required to do that which my conscience forbids as a result I have spent six days in jail because I could not abandon my faith," said Davis.
"I thank the Lord that Judge Bunning released me from jail last Tuesday, but today as I return to work my simple request for an accommodation has gone unheard. Whether I personally issue the license or one of my deputies issue it, the result is the same. The license is issued under the authority of Kim Davis, County Clerk, Rowan County," she explained.
She argued that beyond her conscience, Kentucky's legislature will also have to amend the state's marriage laws to accommodate the issuance of marriage licenses to same-sex couples.
"There is a real need for the legislature to address Kentucky's marriage laws. The president of the senate stated himself … that the marriage laws are shredded. The statute forbids issuance of a marriage license to someone not expressly authorized by statute to receive one. Even if a court strikes down a law it cannot create a new statute. That must be done by the legislature," said Davis. "To issue a license to a person that is not authorized to receive it under the statute is a direct violation of law."
Last Tuesday Judge Bunning ordered that "Davis shall not interfere in any way, directly or indirectly, with the efforts of her deputy clerks to issue marriage licenses to all legally eligible couples." The order noted that if she fails to do this she would be considered in violation of the order and "appropriate sanctions will be considered."
On Monday, she made it clear that while her deputies are not authorized to issue marriage licenses, she would not take action against them if they did.
"My deputy clerks who do not have my authorization or the authority, they don't have my authority to issue any license whatsoever," said Davis. "I love my deputy clerks and I hate that they have been caught in the middle. If any of them feels that they must issue an unauthorized license to avoid being thrown in jail, I understand their tough choice and I will take no action against them. However, any unauthorized license that they issue will not have my name, my title or my authority on it."
Under the cloud of legal questions about her decision, a billboard openly mocking the embattled Christian clerk in Morehead, Kentucky on the weekend where her office is located.
"Dear Kim Davis, the fact that you can't sell your daughter for three goats and a cow means we've already redefined marriage," it read in an apparent reference to biblical verses that permit the selling of women, according to The Washington Post.
The billboard was mounted by Kansas-based nonprofit organization called Planting Peace "founded for the purpose of spreading peace in a hurting world."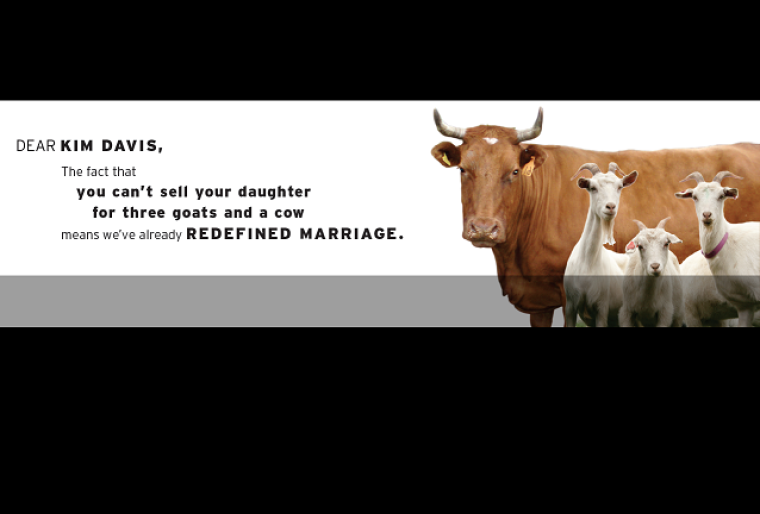 "The intent of the billboard is to expose this narrow interpretation by Davis and others that they use to defend their discrimination against the LGBTQ community," noted Planting Peace in a statement.
"We put up this billboard just kind of reminding her that from a religious perspective, the definition of marriage has been constantly changing, and this isn't actually about religion," Davis Hammit, operations director of Planting Peace, told Reuters. "We're talking about government-issued marriage licenses here."
LISTEN TO KIM DAVIS' COMPLETE STATEMENT BELOW: