Kirk Cameron, Francis Chan, Ben Carson Call for Revival as 'America Is in Serious Trouble' (Watch)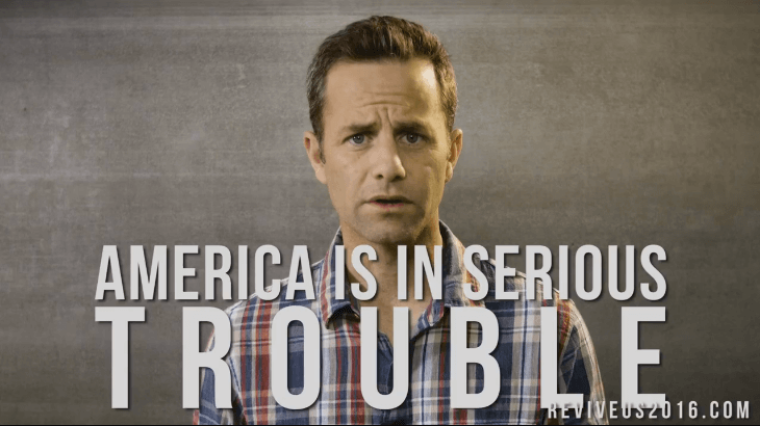 Kirk Cameron is calling for a revival with film "Revive Us" and says people need to come together and pray to help change the course of the country because "America is in serious trouble."
"Revive Us" comes to select cinemas nationwide for a live event today, October 18, and will be rebroadcasted on Monday, October 24. In a new promotional video for the movie, Cameron says, "America is in serious trouble."
"I'm calling a national family meeting. As I visit churches all across the country, moms tell me they're concerned about their children's future. Dads tell me they know something's broken and that the nation is on the wrong track. But they all ask what can we do?" Cameron says in the video.
He then revealed that he called ministers and influencers that inspired him to be a part of his new film and lead people on how to pray.
"I began meeting with the most brilliant, insightful, faithful people I know – pastors, authors, filmmakers, presidential candidates and they gave me answers that filled me with hope and optimism. It was a new perspective, it refreshed my spirit and revived my heart," "The Fireproof" actor continued.
Cameron is calling "Revive Us" a national family meeting. Happening live in hundreds of theaters all across America, the movie will feature Pastor Francis Chan, Dr. Ben Carson, Eric Metaxas, Dr. James MacDonald, Jennifer Rothschild, Cameron's daughter Isabella, The Passion band, The Vertical Church Band and will even include a time to pray with Miss Clara from the movie "War Room." After the film there will also be a live question-and-answer time.
"I need you to come because you're part of the family. Gather the children, the parents, the grandparents, the whole family is coming to pray to worship and to learn how to transform this nation from the inside out and the bottom all the way up to the top. 'Cuz when our family gets together and the Spirit is moving we are unstoppable," Cameron pleaded in the clip.
In a post pinned to the top of his Facebook page, Cameron wrote of his hope for America and Christianity.
"Do we have problems in America? Yes. And there has never been a more exciting time in America to be a Christian. When all hope seems lost, that's when God parts the waters! This could be our 'Red Sea' moment in our America story," he shared.
During a past interview with the Topeka Capital-Journal, the father of six advised Americans not to give in to secular culture.
"People think we are in the last days of America," Cameron said. "Is it too late? No, it's not too late. It's not impossible to turn it around, but there's no time to wait any longer. We are nearing the point of no return, but we're not there yet. But we must lean in, double down and engage ASAP because we've been coasting for too long."
Even though the country is divided, he said there's one thing everyone can all agree on, "Nobody wants to fail at family."
The former "Growing Pains" star has been married to his wife, Chelsea Noble, since 1991 when the couple met on the set of s TV sitcom. The six children they have together consist of four of whom are adopted.
Cameron is also known for regularly teaming up with street evangelist Ray Comfort on "The Way of the Master" program that aims to evangelize atheists. Along with "Revive Us" he has also produced and starred in the films "Monumental" and "Unstoppable" that spread the message of faith.
For more information about the "Revive Us," visit ReviveUS2016.com
Follow Jeannie Law on Twitter:
@jlawcp