Kirk Cameron Tells Students to Live Out Their Faith and Never Back Down
Star Comments on Backlash Over Gay Marriage Remarks at Liberty University Convocation
Correction Appended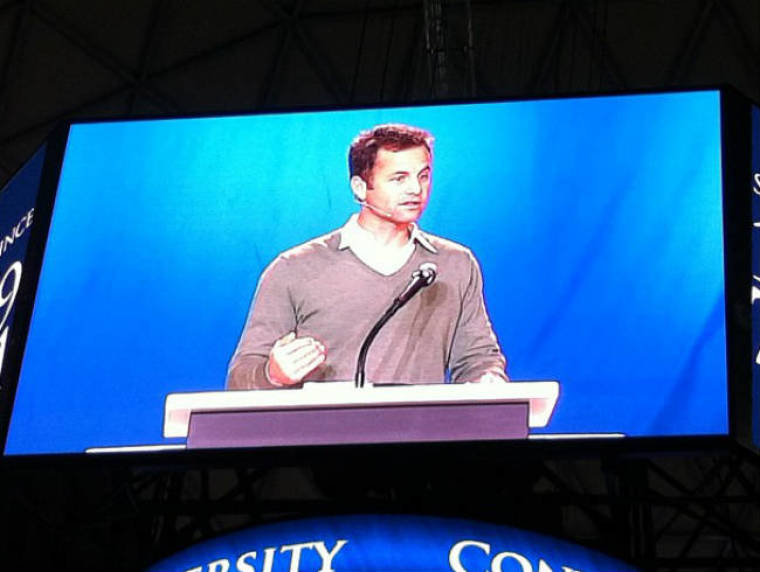 Hollywood actor and born-again Christian Kirk Cameron recently spoke to students at Liberty University's Convocation about his journey as a "recovering atheist" and the challenges he has faced over his faith-based convictions in the public sphere.
"You're in such a good place. You're in a place where there's been a spiritual legacy and a heritage that's being passed down to you, through so many who have invested their lives to teach the next generation," said Cameron, known for his role as Mike Seaver on 80s sitcom "Growing Pains."
"You, you're their hope, to walk into this world and change this world, to bring heaven to Earth, to see this world become more heavenly through you and your commitment, through what you learn and what you do with what you learn. You're also my hope. Your generation, is the generation that can do amazing things and turn things around, and spark revival in the hearts of the people of the church, which is always where it begins for things to turn around in a culture," Cameron added in his Oct. 5 remarks at the Lynchburg, Va., campus.
Speaking briefly about his God-less and church-less upbringing, Cameron, 41, shared his testimony about "losing his faith in atheism" and becoming a "recovering atheist" after stepping inside of a church for the very first time 20 years ago.
"I went to the front of this church, not because I wanted to find out more about God, but because I was so captured by the message that this preacher had preached from the pulpit," Cameron revealed, noting that the preacher he heard speak was Chuck Swindoll.
"I got an earful of who God is," he told the more than 10,000 Liberty University students tuned into his message.
Cameron shared that it was a concern about facing an eternity in hell that forced him to come to grips with the Gospel and compelled him at the age of 17 to pray for the very first time.
"I can stand here and tell you today as a recovering atheist that there's nothing I've ever done in my life, there is no one I've ever met, there's no place I've ever been that is more exciting, more important and more needful in my life than becoming a follower of Jesus Christ, of having my sins forgiven and being made into a child of God, through faith in his son," he told students.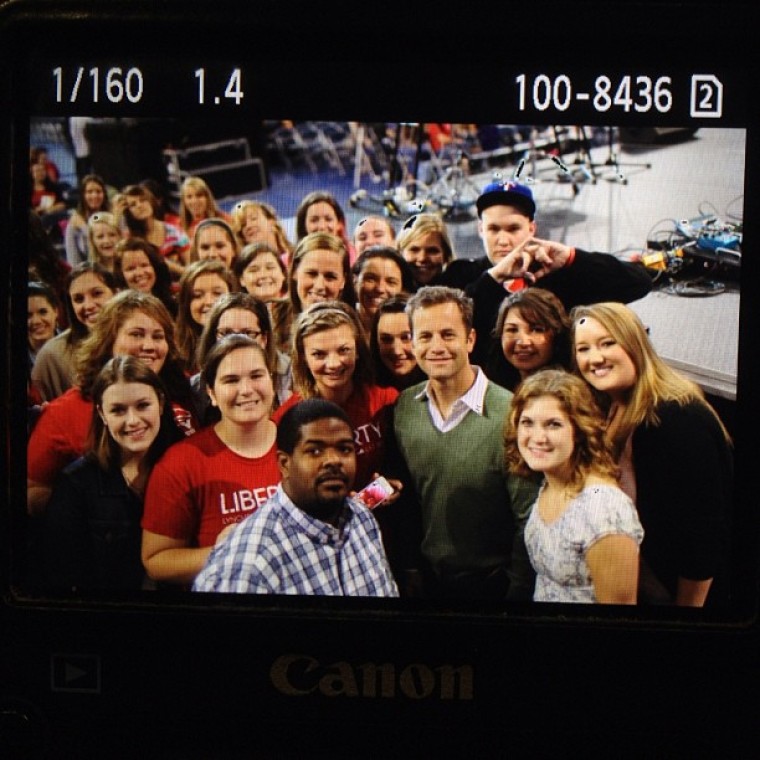 Cameron also commented on the success of the 2008 independent film "Fireproof," noting that starring the film taught him that "marriage is still important. Marriage is the foundation and bedrock of family, and family is critical for civilization and society to exist and to flourish."
Relating the various media appearances he participated in to promote his own film, "Monumental," the Hollywood star held up his March 2012 interview with CNN's Piers Morgan as an example of the difficulty Christians can face when being faithful to their convictions.
"You know sometimes when a Christian is asked a question and has a conviction about not backing down and wussing out and being honest about who he is and Whose he is, it can get you into some hot water," Cameron shared. "It seems that I hit the side of a hornet's nest when I answered a question."
The actor was asked by Morgan in the March interview for his views on same-sex marriage, and shared that he believes such unions are "unnatural... detrimental, and ultimately destructive to so many of the foundations of civilization." Cameron was criticized by gay rights activists, called homophobic, and accused of using hate speech.
"The truth is always love speech, it's not hate speech. The truth communicated with compassion with a desire to see people in a right relationship with God, helped and healed and whole, is the most genuine form of love speech you can give anyone," he countered, adding that those worshiping the "god of political correctness" wanted to crucify him for his remarks.
The married father of six concluded his Convocation message by returning to "Monumental," a documentary about the faith-based principles that contributed to America's founding. He explained that his main motive for making the documentary was his own children, who are not much younger that Liberty University's student body.
"You are the hope of our generation. You are the hope through your faith in Christ working in partnership with God. Live out your faith, and heavenize the earth," Cameron concluded, imploring students to get involved in shaping the future of the nation.
Watch Cameron's remarks at the Liberty University Convocation:
Correction: Saturday, Oct. 13, 2012:
An article on Wednesday, Oct. 10, 2012 about Kirk Cameron's remarks at Liberty University's Convocation made a reference to the "late" Chuck Swindoll. Swindoll is alive and still preaches on a weekly basis at Stonebriar Community Church in Frisco, Texas.