Kirk Franklin Talks Fidelity and Divorcing His Carnal Nature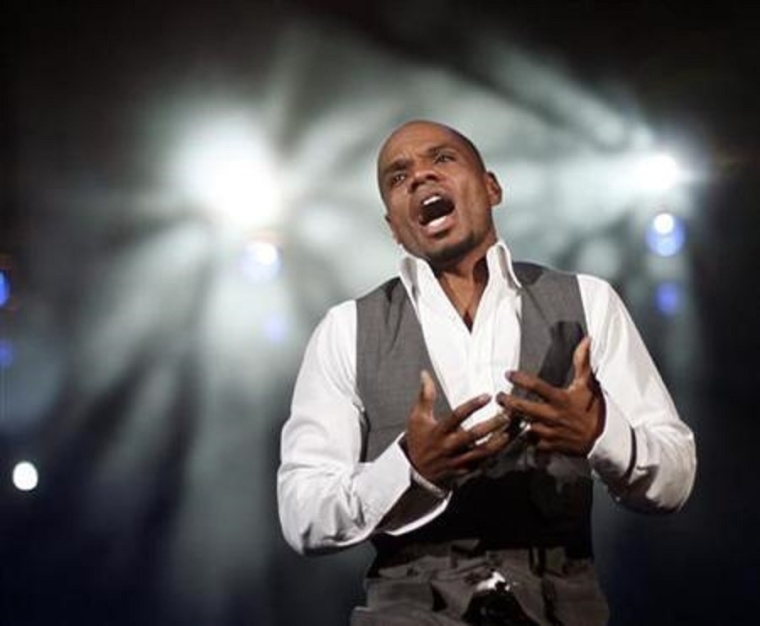 Kirk Franklin is letting people know that in order to have a successful marriage, divorce has to take place.
Franklin, 45, is a staple in the gospel music industry with his own Sirius XM radio station, Kirk Franklin's Praise, television hosting gigs on The Game Show Network's "The American Bible Challenge" and BET's "Sunday Best." Most recently, the well known Christian entertainer has been blogging for patheos.com about a multitude of personal topics centered around godly living.
In his latest blog titled "The Great Divorce" the entertainer explained the importance of divorcing things in life that are holding you back from being sanctified. Franklin recalled being a newlywed 19 years ago and looking at another woman while he was eating at a restaurant with his wife.
"The spirit of ADD attacked my mind, the focus of my eyes left the beautiful bride in front of me and turned to this mean horrible lady who shouldn't have worn such a sexy dress and sweet smelling perfume," Franklin wrote. "Tammy stopped talking as she noticed my attention had turned to the young lady that had passed, began to roll her neck and suck her teeth like only a sista is gifted by God to do."
Instead of causing a scene, Franklin's wife gave him an ultimatum. He recalled her speaking with "the quietness of a lamb, yet the authority of a soldier," while letting him know that she would not allow him to look at both the woman and his wife.
After 19 years of marriage, Franklin chose his wife, Tammy. Still, he recalls the root of the real struggle he faced years ago.
"I had old habits I developed before I understood that salvation and sanctification were two different things and took some old hurtful habits into my marriage: promiscuity, a carnal approach to putting the past behind me, childhood addictions of pornography," Franklin wrote. "Of course, my wife's shoulders were not built for my unhealthy past. I almost crushed her in the beginning of our marriage, because one woman cannot keep up the performance of several. God never intended her to."
The entertainer suggested that people needed to divorce their carnal nature daily and be honest about assessing what things are standing in the way of their goals and relationships with God.
"Whether its sex, power, or control (which is the same as power), you can never be who the new you in Christ was intended to be until you divorce the old one," Franklin shared.
Tammy previously spoke to Going Beyond Ministries about how she maintains being a good wife in her marriage.
"Quite often, we have more of a 'takeover' spirit and we put the label of 'helping' on it. In fact, we take over a situation and handle it the way we want it to be handled, or the way we think he should do it," Tammy told Going Beyond in 2012. "I've learned for me that truly being a wife is listening to my husband's needs, dreams, and even at times, his need to vent and for me to simply listen and not try to fix it. And above all, say a lil' prayer."