Kraft Pulls Ads From Controversial New 'GCB' Show (VIDEO)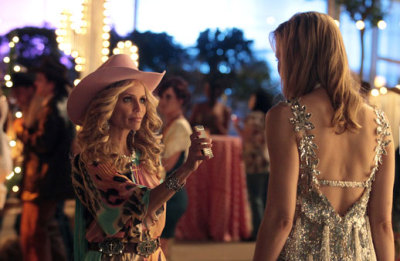 Kraft Philadelphia has announced that the company is pulling all of it's advertising from controversial new ABC show "Good Christian Belles," after a series of complaints by many who believe that it mocks Christianity.
"[Kraft] Philadelphia has decided to pull its advertising from GCB ... We have received a few complaints from consumers and their opinions about our advertising are important to us. We have recently decided to redirect our advertising to other programs," a Kraft Philadelphia spokesman told TMZ on Wednesday.
"GCB", which is produced by famed "Sex and the City" executive producer Darren Star, has resulted in critics including New York City Councilman, Peter Vallone, calling on "people of all faiths" to boycott the show, according to TMZ.
"The title of the show alone is yet another outrageous attack on the Christian faith. Charlie Sheen will be back on 'Two and a Half Men' before we see a similar title targeting another religion," Vallone said.
The show's original title, "Good Christian B-----" sparked outrage, which resulted in ABC changing the name to "Good Christian Belles," but critics such as Vallone argue that the show still holds negative portrayals about the Christian faith.
"No one is fooled by that ridiculous claim. The original intent is clear, and changing the title of a show in your head doesn't count," Vallone said.
"GCB," based on Kim Gatlin's novel "Good Christian B-----" follows the life of Amanda Vaughn, a divorced and single mother, who finds herself caught up in salacious gossip and lies.
Vaughn returns to an affluent Dallas town that is filled with heavily botoxed and superficial Christian women, but actress Kristin Chenoweth, who is also featured throughout the series, recently spoke out in the show's defense.
"I think it's really funny. I remember growing up, it was always the same woman who got the solos in the church choir. And there's always the woman at the bake sale or the church dinner who wanted to outcook everyone. The thing is, just because you're a Christian doesn't mean you're perfect," Chenoweth told The Hollywood Reporter.
"We are all human. And so this show shows the humanity of it, and I love it. I'm one of them. I grew up in that world ... it could take place in a temple, in a community, but we just set ours in a church," she added.