Lawyer-Turned-Church Planter Sowing Seeds for 'Spiritual Renaissance' in NYC's Historic Harlem
NEW YORK — A New York City lawyer that left his family's lucrative practice two years ago to pursue a church plant in Harlem, says he's looking to help spark a revival — that is, a new kind of renaissance in a part of town known historically for being an incubator of the arts and religious life.
Why the play on words?
"It's a nicer way of saying 'revival.' We want to see a renaissance happen, and 'revival' sounds too harsh, it sounds a little too intense," Jordan Rice, 32, told The Christian Post in July.
"We want to see a spiritual renaissance happen in Harlem," he repeated of the neighborhood that helped birth such literary and music greats as James Baldwin and Billie Holiday, and a long list of others throughout the decades since the height of the Renaissance in the 1920s.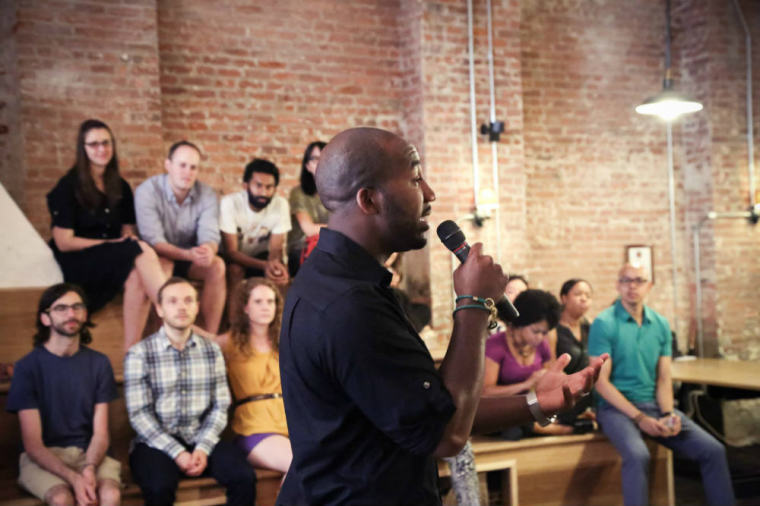 Harlem, situated in the north of NYC's Manhattan borough, is home not only to popular mainstays like the Apollo Theater and Sylvia's soul food restaurant, but it's also where hundreds of Christian churches of nearly every stripe are located, alongside Jehovah's Witnesses, Mormons and the Church of Scientology. Harlem is so well-known for its religious landscape that a few of its houses of worship are designated landmarks (and tourist stops), such as Harlem's oldest house of worship, the Abyssinian Baptist Church. The neighborhood, so significant in African-American history and in American history in general, is dissected by streets named after icons such as Adam Clayton Powell, Jr., Martin Luther King, Jr., and Malcolm X.
Despite its glory days of being the place for black life and culture, today Harlem is no longer majority-black — neither among its residents nor business owners. As the New York Times noted a few years ago, reliable mom-and-pop shops and affordable housing have given way to pricey boutiques and million-dollar condominiums. And Starbucks — the sure-fire sign of gentrification for many New Yorkers — has a presence at a few locations throughout neighborhood.
Rice, born in the borough of the Bronx to the north of Harlem and "a Yankee fan since (he) was one years old," has witnessed the changes first-hand over the years, having established ties to Harlem as a kid through his actual first love, basketball. Growing up, he was in the neighborhood every Saturday morning playing ball, and he preached one of his first sermons at the local Shiloh Baptist Church.
"Harlem is going through a lot of changes," said Rice. "Harlem has a lot of amazing, historical places but there's also a lot of brand new things springing up. I live on 121st Street. On one corner, you have Section 8 housing, cheaper rents, people outside playing dominoes and spades till 2 a.m. Then on the other corner of 121st on Eighth Avenue, you have $4,500 (per month) apartments. So on one street, you see this ridiculous contrast and I think that's actually what's starting to make up Harlem."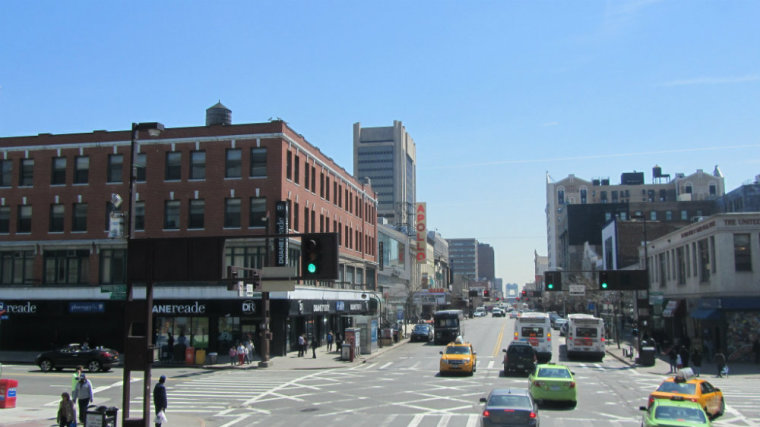 "I think in general, Harlem is one of those neighborhoods where there's so many beautiful things that have come out of Harlem historically that it's always been a neighborhood that we've just loved. Even though Harlem (has) a lot of churches and a lot of really good churches, Harlem has also seen a lot of changes in the last couple of years. We wanted to just plant a church that was relevant for the people that wouldn't necessarily fit into the previous landscape of churches."
The 60-70 people committed to launching Renaissance Church range in age from 21-40, and run the gamut when it comes to diversity, ethnically and in other ways.
Rice explained, "[We] have a bunch of people from Harlem, many who just moved in, single mothers, people just out of prison, investment bankers and everything in between."
Rice and his Renaissance team might be setting the benchmark, as Harlem apparently has yet to see any new or emerging Christian church plants with a contemporary bent.
"We're pretty much it right now. There are people who want to try stuff with varying degrees," he said. "I'm not necessarily sure I agree with their model going out, so I don't know that we'd be partnered up with them. Some of it I think is imperialism, people are waiting for the neighborhood to change over just enough so they can plant a church there. Some of it is that, and some of the people are completely on board with that."
He added, "There's a good number of people that are unchurched and certainly a good number of people who are de-churched" — people who might have grown up in church but left for whatever reasons.
His message to skeptics: "We just say come and see what we're doing... We don't use big words, we don't talk about things in lofty terms. We know that there are people that have never read the Bible before and those are the people we actually want..."
Despite his longtime relationship with Harlem, Rice only moved into to the neighborhood two years ago, along with his wife, Jessica. The couple were both widowed when they met.
For Rice, whose parents are lawyers and both serve in the deaconry at their Baptist church, Renaissance has been "a long time in the making," as he has had it on his heart for about a decade to start a church. After finishing college at 21, Rice went straight to law school and then directly to seminary. But the timing for a church plant didn't seem right until about four years ago, while he was married to his first wife, Danielle. A sudden diagnosis of an extremely rare form of cancer eventually claimed her life just two years into the marriage, and the loss soured Rice's church-planting dream.
Eventually getting over his anger and unable to "shake this feeling that God wanted me to plant this church," in 2012, Rice finally walked away from legal practice and embraced what he felt was a call to the ministry. Along the way, he met Jessica, who had lost her husband to a deadly motorcycle accident less than three months after marrying. Married last summer, the couple has since been working on realizing their vision of a Christ-centered and contemporary church in Harlem.
From working with the Orchard Group network and securing a church planting fellowship through Redeemer City-to-City, Rice and his core team were set for their first Sunday service at a local public school on Sept. 21.
In the meantime, Rice and his nascent church have been busy plugging into the community by serving with nonprofits like YoungLife to tutor youth in the neighborhood, and Girls Educational and Mentoring Services (GEM) to assist local sex trafficking survivors. Despite his focus on serving the community, exemplified in March when he sprang into action in the aftermath of deadly explosion that destroyed an East Harlem church, Rice is quick to note that Renaissance Church is first and foremost a church and not a community-based organization.
"We absolutely actively engage in serving the community, but we serve the community for the glory of Christ," he explained, later adding: "Our mission is to introduce people to Jesus Christ. Our mission is to connect people to Jesus Christ and to each other, and these are things that we state from the very very forefront of everything we do so that there's no surprises, there's no bait and switches."
"The best part about this entire journey has been the people we've met," added Rice. "The people that we've met that are forming up Renaissance, whether they're from Harlem, they've been there for 50 years or they just moved in last year...it's been an incredible makeup of people that want to do life together. And I think that's what church is, a group of people doing life together and struggling to figure out what it means to follow Jesus in the city.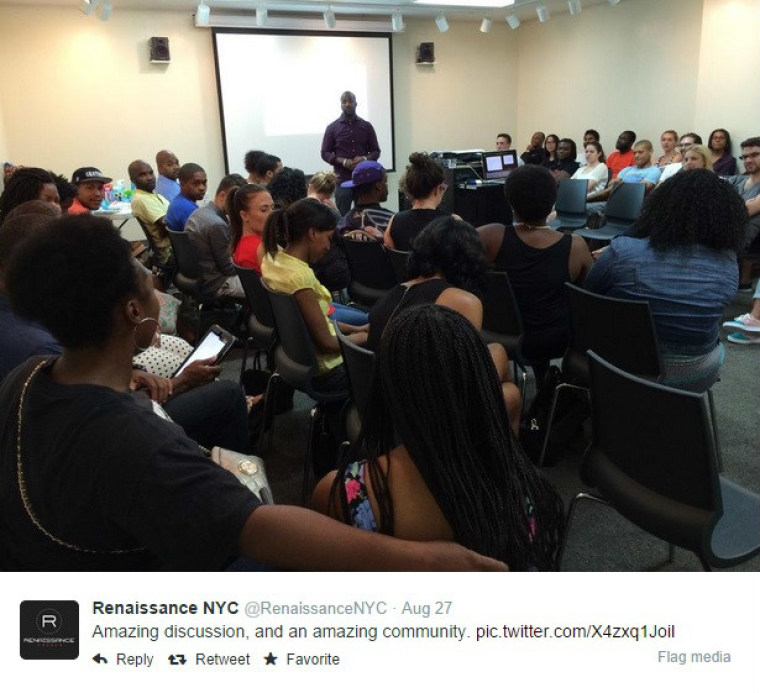 Rice's way of doing church is reflected in what he calls the Five C's: Christ-centered, Casual, Concise services, Contemporary, and Community-based. He appeared this summer on CP Newsroom to discuss those particular points, which you can watch in the video player below: