Lecrae Regrets Response to Chief Keef Baptism Question on BET's '106 & Park'
Recording Artist and Christian Minister Says He's 'Sincerely Praying for Him,' Believes God's at Work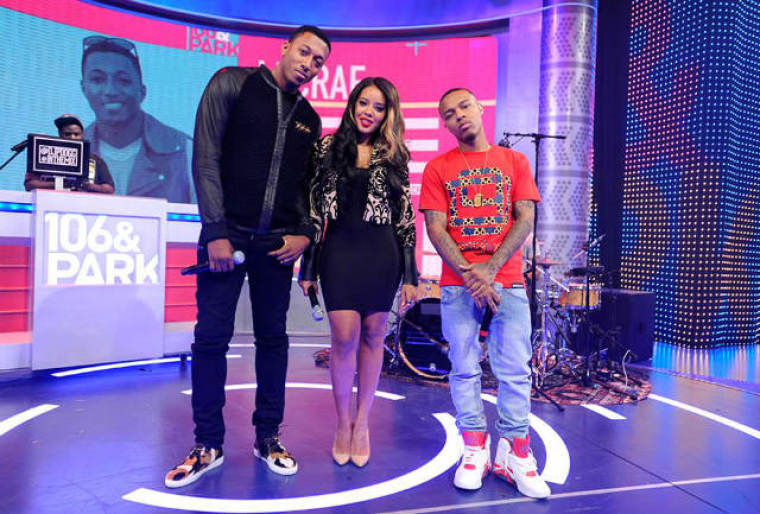 Christian evangelist and Grammy Award-winning hip-hop artist Lecrae Moore has expressed regret over a response he gave on BET music program "106 & Park" in which he was asked for his opinion on teen rapper Chief Keef considering baptism after run-ins with the law.
"If I'm honest, the Chief Keef question I was asked on '106 and Park' threw me for a loop. I wasn't ready for that one. I don't think they were asking a theological question as much as they were asking about his sincerity and I wanted to demonstrate grace," Lecrae confessed to fans on Facebook after his appearance on BET this week. "I had a lot on my mind, fighting thru internal pressure, and time restrictions. So I was beating myself up a bit after that wishing I could go back and elaborate more, but by God's grace I ran into Keef that night and got to chop it up with him! I'm sincerely praying for him and do believe God is up to something."
The appearance in question occurred on Tuesday, when Lecrae visited "106 & Park" in NYC to perform and discuss his latest music video, "Confessions," recorded with rapper David Banner, whom he calls a mentor. After his performance before an excited crowd, Lecrae took to the "106 & Park" couch to chat about his faith, achievements and the state of hip-hop with hosts rapper and actor Bow Wow (Shad Moss) and designer and reality show star Angela Simmons, also the daughter of Reverend Run.
When asked by Bow Wow if he felt like if troubled 17-year-old Chief Keef, born Keith Cozart, would be "changed" if he got baptized, Lecrae said, "I respect anybody's decision to say, 'You know, I need a closer relationship with God.' And I think we just all need people in our lives to help us walk through that."
"If Chief Keef's got [those] type of people around him, then more power to him," Lecrae added, as seen in the video below.
Chicago rapper Chief Keef has had several run-ins with the law this year, with an arrest this week for allegedly speeding and another a week prior for alleged possession of marijuana, a drug he is apparently quite fond of. In March, when Keef completed his 60-day stint in juvenile detention for parole violation, his former pastor, minister Corey Brooks, reportedly stated publicly that the troubled teen father would be getting baptized at his New Beginnings Church of Chicago. However, last month, Pastor Brooks revealed that Chief Keef would not be getting baptized at the church after all, and suggested that it was his decision.
Lecrae, who has spoken on various occasions about living out his Christian faith in a way that impacts the wider culture, shared last week on Ed Stetzer's "The Exchange" that he has had the opportunity due to his mainstream success to affect the lives of the secular artists with whom he has worked.
"There are some albums that have come out this year that are vastly different, and I say it's a testament to myself and my counterparts just being involved in these guys' lives and trying to share our hope with them, our faith with them," he said.
In that same discussion, Lecrae acknowledged the difficulty he sometimes has in pleasing both his Christian fans and those who aren't religious but support his music, the former of whom might call his music "too pagan" and the latter claiming it is "too Christian."
"As far as the world is concerned, it's mostly preconceived ideas of what I'm about. So they haven't really investigated enough to know how Christian it is or what it is that's gonna happen," the Atlanta rapper said.
"On the Christian side, there's a sense of like, 'See, Lecrae is falling off, he's getting worldly. I heard him do this song, he's performing at this place ...,'" he explained, giving examples of the kind of criticism he might receive on social media.
Despite the criticism, Lecrae maintains that it is vital for him to live out his faith in every area of his life. "I really don't feel like I have anything to lose. I'm being authentic, and my strength is in the Gospel and my strength is in the Lord to allow me to be exactly who I am," he said regarding aspects of his faith remaining central to his music.
The 33-year-old Atlanta rapper, who does ministry work through ReachLife Ministries, became in February the first Christian recording artist to win a Grammy Award in the Best Gospel Album category, due to his 2012 record Gravity.