Christian MC Propaganda and I Am Second Launch Spoken Word Contest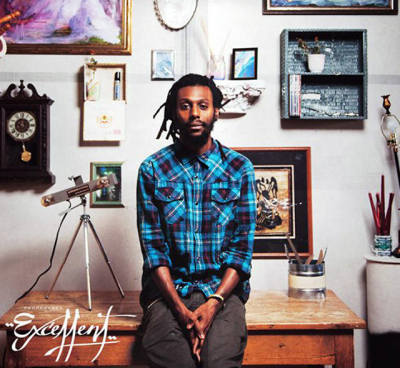 Rapper and emcee Propaganda has teamed up with the I Am Second movement to not only share his story of discovering his identity in Jesus Christ, but also to offer fans the opportunity to have their own spoken word featured online and the chance to win $200 and additional prizes.
Propaganda, born Jason Petty, is a hip-hop artist signed with Humble Beast Records who has impressed new listeners and dedicated fans with his 2012 LP Excellent. The MC/rapper/spoken word artist recently sat down before I Am Second's cameras to share his story and is calling fans to step up to the challenge before his video debuts.
"I recently had the honor and privilege to sit down with wonderful people to share my story. If you know anything about me, my catalog and my music, I talk a lot about issues of identity. In this one, I'm going to talk about my journey and identity. Can't wait to share it with you, but before that happens, I have a little challenge for you," Propaganda says in a video promoting the Spoken Word Challenge.
"One of my most frequently asked requests is, 'Can I submit my poetry to you, my spoken word? Will you check it out and give me a few pointers?' Here's your chance. I want you to burn that paper up and scribble your most amazing poetry pieces you can about your journey."
According to the official website for the competition: "The Spoken Word Challenge is about defining your identity & presenting it in an artistic way. Our identity is created by our story. What makes you, you? What influences you? Define yourself beyond what culture says you are — what's your #identity?"
Those interested in signing up for the Spoken Word Challenge are encouraged to submit a 90-second spoken word video by June 18. The winner will be revealed on June 21 and, in addition to the monetary prize, will receive merchandise from Humble Beast Records. More information about the challenge can be found at www.iamsecond.com/seconds/propaganda.
Propaganda's Excellent LP has maintained a solid five-star rating on Apple's iTunes store after debuting in September at no. 7 on Billboard's Top Gospel chart and no. 14 on its Christian Albums chart. The 34-year-old Christian MC and California native joined Lecrae's Higher Learning Tour earlier this year and made his debut as an emcee more than a decade ago with the Tunnel Rats crew. He shared his story with the Christian Broadcasting Network in March, which can be viewed in the video on the left.
I Am Second is a Dallas-Fort Worth, Texas, nonprofit founded in 2008 that features the testimonies of prominent Christians from all walks of life and professions.
Watch the spoken word video titled "G.O.S.P.E.L." delivered by Propaganda, and a few others from similar artists, like Jefferson Bethke and Jackie Hill.
G.O.S.P.E.L. - Propaganda
Why I Hate Religion, But Love Jesus - Jefferson Bethke
A Tale Of Two Souls - Jackie Hill