Lecrae's 'Church Clothes' Video Exposes Christian Hypocrisy?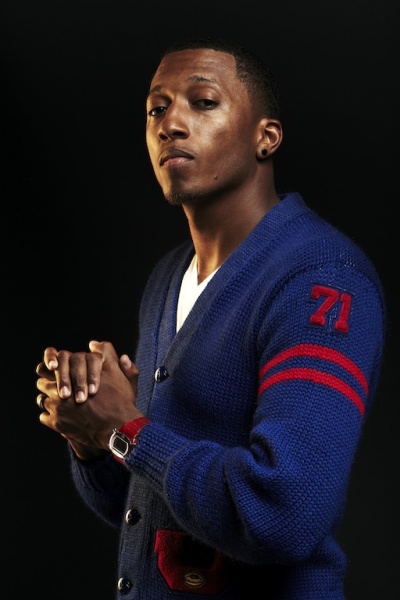 Lecrae Moore, among a long list of artists popular for preaching the Gospel in rap, has recently released a video for his upcoming mixtape "Church Clothes." The video, featured on the website of a mainstream hip-hop publication, has apparently won approval from fans pleased to see the hypocrisy present in some churches, and its effect on unbelievers, brought center stage.
On Thursday the rapper, who just goes by his first name, announced to fans on Facebook and Twitter that the "Church Clothes" video had made its world premiere on XXLmag.com.
The "Church Clothes" video first shows the lyrical theologian appearing with hip-hop staples, such as DJ Premier and newbie Kendrick Lamar, acknowledging his skills. The video then cuts to Lecrae standing in the pulpit of a church wearing a minister's garb. He soon rips off the preacher's robe to reveal his sleeveless shirt, cargo shorts and baseball cap, and continues rapping as he walks down the aisle.
A sample of the lyrics, presented from the viewpoint of someone justfying their lifestyle with two-faced behavior apparently found in some churches, follows below:

R.I.P. to Medgar Evers / R.I.P. to Doctor King
I ain't tryna hate on my own kind / But Al and Jesse don't speak for me
I'm probably gon' catch some flack man / But I'ma swallow this pill like Pac Man
Some of these folks won't tell the truth / Too busy tryna get them racks man
Church tryna rob my paychecks / Choir members probably having gay sex
Pastor manipulating, hurting women / I wonder what he's gonna say next

Bookstore pimping them hope books / Like God don't know how broke looks
They telling me that I'm gon' reap a meal / If I sew into these low crooks
Plus I know old girl a freak / Now how she singing a solo?
I walk in the church with a snap back / And they telling me that that's a no-no?
That's backwards and I lack words / For these actors called pastors
All these folks is hypocrites / And that's why I ain't at church
Truthfully I'm just doing me / And I don't wanna face no scrutiny
As long as the church keep wilding out / I can justify all my foolish deeds
The YouTube cut of the video published on XXLmag.com had attracted nearly 20,000 views in less than a day as well as dozens of comments.
WATCH LECRAE'S 'CHURCH CLOTHES' MIXTAPE PREVIEW VIDEO
One top commenter suggested that Lecrae's "Church Clothes" title video could serve as a catalyst for Christians perhaps living a double life.
"This is deep. A real message acting as a catalyst to make others really think about their motives. Are you really being led by the spirit and truth, if you're not submissive, humble, and walking with integrity?" the viewer asked.
Another viewer wrote:
"These lyrics are so DOPE, and so true! I've seen it, and the pastors CAN be the worst hypocrites of them all, manipulating with their power and money, taking advantage of broken women and turning away people who don't wear 'church clothes' cuz they're different. They're afraid of them cuz they're radical, passionate and real and they'd bring truth to a church built on lies. The [definition] of church really means fellowship with brothers and sisters in Christ, you don't need a fancy building or fancy clothes."
There were some viewers of the "Church Clothes" video who were not sure about Lecrae's message, to which another commenter offered:
"I hope people realize that there is a reason why he is doing what he is doing. He is trying to bridge the gap between the mainstream hip-hop culture and those who have been transformed by Jesus and yet are still a part of the culture themselves (Christian hip-hop/rap). This is basically the Great Commission in action. We are called to reach out to 'all nations' and 'all people' not just those who already know Christ."
When asked in a recent interview about the "Church Clothes" mixtape, to be released May 10 on datpiff.com, Lecrae acknowledge that the style on his latest effort is definitely not what fans may be used to.
"This mixtape is aimed at the mainstream and is raw uncut hip-hop," he said. "This is totally different from my past releases, and I hope I can build a bridge between my current fans and create new ones."
"Church Clothes," a preview to Lecrae's fall full-length album Gravity, is hosted by DJ Don Cannon and features No Malice, formally Malice of the Clipse, Tedashii, and Andy Mineo. Producers 9th Wonder, Boi-1da, and Street Symphony also contribute to the mixtape. The title video was directed and edited by Kyle Dettman.
Lecrae, 32, started his rap career in high school but redeemed his hobby after a conversion experience at 19. Since then, the MC and married father has positioned himself as an influential leader not only in the Christian community but in the music industry as well.
READ: THE MIDDLE-AGED WHITE GUY'S GUIDE TO CHRISTIAN RAP
SEE VIDEO OF JEREMY LIN SPEAKING ON HIS LOVE OF LECRAE