'Left Behind' Preview Clip Featuring Nicolas Cage Released; Actor Calls Rapture 'Fascinating'
Watch a Teaser 'Trailer' of 2014 Remake of Original Film Starring Kirk Cameron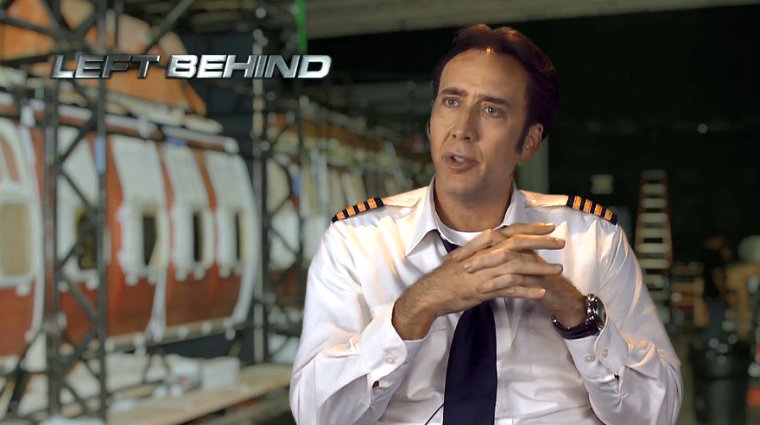 The makers of the new "Left Behind" movie starring Nicolas Cage have posted a preview clip of the apocalyptic film online for enthusiastic fans, who have so far offered mixed reactions. The Hollywood star also appears in a separate video commenting briefly on the rapture.
In a 45-second clip published online this week, the character Chloe (Cassi Thomson) sits across from Rayford (Nicolas Cage) as the two discuss the absence, or disappearance, of Rayford's wife and Chloe's mother. Cage's character complains, "If she's gonna run off with another man, why not Jesus?"
The relatively quiet scene, marked by soft music, was released on the official "Left Behind: The Remake" Facebook page with a note from Producer Paul Lalonde.
"I was running through the rough cut of 'Left Behind' again today and thought you guys might like a little tiny peek. It's temporary music and it hasn't been color corrected etc., but hey, it's better than nothing right? Enjoy," read a message from Lalonde.
Watch the "Left Behind" preview clip featuring Nicolas Cage:
So far, fans seem to love the teaser, although a few did have complaints about the music featured in the brief scene.
"I like it, but if I could add a creative opinion...I think not having music in every scene can make a movie even better. This is one of those scenes," wrote Marty Freetage.
"So glad that's only temporary music, it's distracting, cheesy and doesn't go with the scene," added Joy Pilarski.
At least one fan suggested that the "Left Behind" remake based on the bestselling book series by Tim LaHaye and Jerry B. Jenkins might fail to outdo the original 2002 film that starred Kirk Cameron as Buck Williams.
"I''m sorry, but I don't think that's a movie they could ever remake as good as the first one," wrote Marianne Sanders Hutchinson.
In addition to Cage and Thomson, other actors featured in "Left Behind" include Chad Michael Murray (Buck Williams), Lea Thompson (Irene Steele) and Nicky Whelan (Hattie Durham). "The Blind Side" actor Quinton Aaron, "American Idol" winner Jordin Sparks and track star and bobsledder Lolo Jones also make appearances in the movie.
"Left Behind," set for a 2014 theatrical release, unfolds during the immediate aftermath of the sudden vanishing, or rapture, of millions of people from Earth. According to the book series, this rapture of Christians occurs at the Second Coming of Jesus Christ.
In another video featuring cast interviews, Cage comments briefly on the concept of the rapture.
"To me, that's fascinating. What would that be like if you're a pilot and people start vanishing, your passengers start vanishing?" said Cage. "Well, I've never done anything like that before."
"Left Behind" was directed by Vic Armstrong and written by Paul Lalonde and John Patus. Stoney Lake Entertainment produced the film and Samuel Goldwyn Films serves as its U.S. distributor.