Lesbian Student Wins Lawsuit; No Tuxedos or Dresses at Graduation (VIDEO)
A school in Mississippi has thrown out gender-specific graduation outfits as a result of a lawsuit settlement.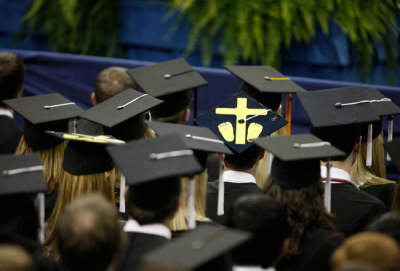 Ceara Sturgis, a lesbian, filed the lawsuit against Copiah County School District after her high school excluded her picture from the graduation photos because she chose to wear a tuxedo.
"I feel like I'm not important, that the school is dismissing who I am as a gay student and that they don't even care about me. All I want is to be able to be me, and to be included in the yearbook," Sturgis, 17, said in a statement.
With the help of the American Civil Liberties Union (ACLU), Sturgis was able to reach an agreement with the school district. All students attending graduation will wear gender-neutral caps and gowns, instead of the traditional suit and dress requirements.
Although Sturgis' photo will not be present in the yearbook, it will be mounted in the school's library, along with her fellow classmates' graduation photos.
"I am thrilled that my photo will join my classmates on the wall of our school library," Sturgis said in her statement. "It's important that nobody else will be forced to wear something that doesn't reflect who they are."
Lesbian Student Wins Lawsuit
This is not the first legal settlement the state of Mississippi has reached concerning a lesbian student and a school's dress code for social event. In July 2010, the state paid $35,000 to Constance McMillen, 18, when her school prom was canceled because she sought to attend with her lesbian partner.
On the other side of the argument are the school districts, which argue that such cases disrupt the productive process of the school administration.
"We were being hounded every day. Our students were being hounded," superintendent of Itawamba School District Teresa McNeece said.
"We were having a tough time of any bell-to-bell instruction," she added, arguing that the school board was discussing canceling the prom before McMillen's issue came up.
In both of these cases, the Mississippi schools amended their anti-discrimination statements to include the homosexual community.