LGBT Activists Accused of Using FBI to Harass Christian Man Who Criticized 'Open to All' Campaign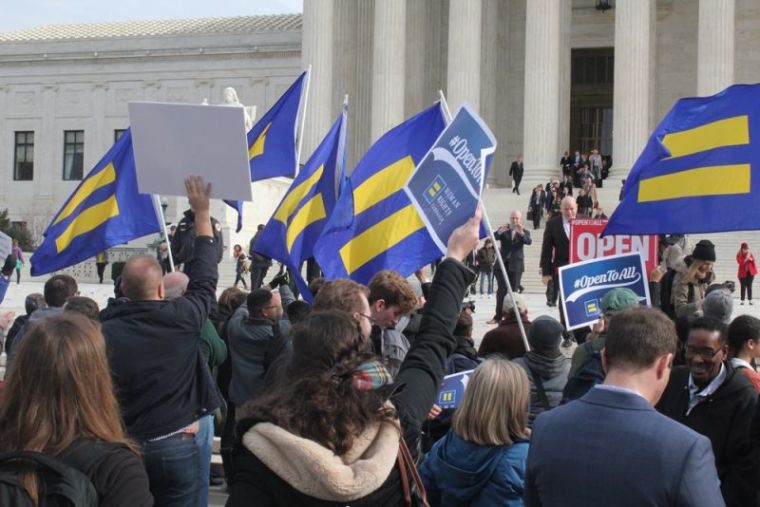 One of the nation's most prominent LGBT activist groups has been accused of filing a false complaint with the FBI in an attempt to "harass" a Christian conservative critic who spoke out against its campaign to place LGBT signs in the front windows of businesses nationwide.
Conservative columnist and activist Austin Ruse, the president of the Center for Family and Human Rights, has voiced concerns after he was visited by an FBI agent who was following up on a complaint filed against him by the Washington, D.C.-based Human Rights Campaign.
Although Ruse wasn't home at the time, the agent left his card. Ruse then called him when he returned home.
"When he called me back a few days later, he wanted to know about a Twitter exchange I had with the anti-Christian Human Rights Campaign," Ruse wrote in an op-ed published by The Stream.
The exchange in question occurred after Ruse posted a social media comment in response to HRC's "Open to All" campaign that's urging business owners worldwide to place signs in their windows that indicate their support for LGBT causes and that their businesses are "open to all." The campaign was a response to the Supreme Court's ruling in favor of a Colorado Christian baker who refused to design a cake for a same-sex wedding in 2012, a time when same-sex marriage wasn't even legal in that state.
In a response comparing the organization's request to a "mafia shakedown," Ruse replied: "That's a nice business. Too bad if something happened to it."
"The FBI told me they had gotten a civil rights complaint from the Human Rights Campaign," Ruse explained. "He said, please know, we are not opening up an investigation, but we are required by law to follow up."
The FBI agent asked Ruse what he meant by the remark on social media.
"I told him it was a reference to the mafia shaking down businesses for protection," Ruse said. "Of course, he knew that. He chuckled when I told him. You could tell he was rather embarrassed at having to ask. He could not have been nicer. He said, without further questions, 'I thought so.' He said, 'no problem' and rung off."
Ruse said that the organization's reporting of his tweet to the FBI is akin to "swatting" — a term that refers to "the terrifying harassment tactic of deceiving law enforcement into sending a large number of armed officers to someone's address when there is no such emergency."
"What HRC did was waste the time of the FBI over something they knew had no basis in fact," Ruse's op-ed reads. "The FBI is stretched remarkably thin working on issues of authentic crime. HRC caused an FBI agent to stop what he was doing, get in his car, and drive to our house. What HRC did is akin to filing a false police report."
The Christian Post reached out to HRC for comment but no response was received by press time.
In his op-ed, Ruse further compared the HRC campaign to "soviet tactics."
"Businesses were asked to put up pro-Soviet posters in the windows of their shops. Most of them knew the punishment that would come if they didn't. So most of them put up the posters simply to avoid trouble," Ruse wrote. "That's what this anti-Christian hate group is doing. Intimidating businesses into accepting their propaganda and employing federal agents to harass their critics."
A number of businesses across the country have been shamed and have even faced crippling fines for their refusal to serve same-sex weddings.
In fact, a Christian-owned pizzeria in Indiana faced extreme backlash from LGBT activists and its supporters in 2015 after a local TV reporter asked if they would cater a same-sex wedding and replied that they wouldn't.
Although the Memories Pizzeria had never been asked to make pizzas for same-sex weddings, the mere indication that the restaurant wouldn't serve pizza to a same-sex wedding because of the owner's religious beliefs was enough to stir threats to burn down the establishment. The family that owns the restaurant was even forced into hiding at one point.