Liberty U Says Falwell Sr. Confidant Wasn't Forced to Resign After Opposing Trump Endorsement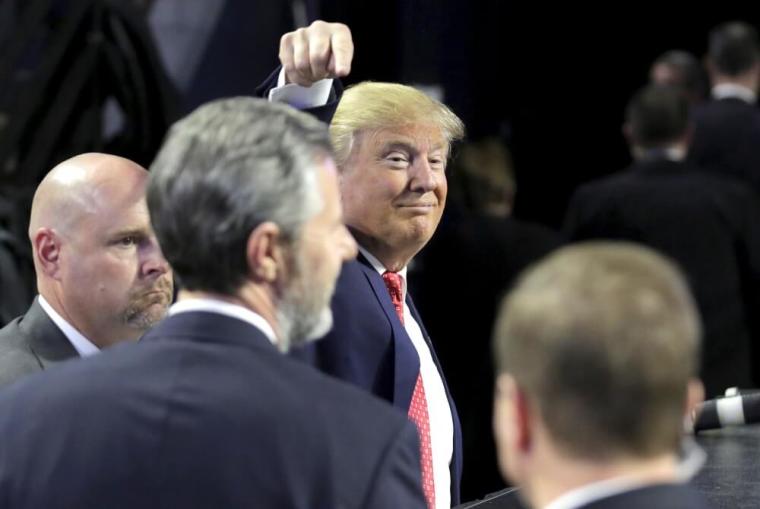 DeMoss denies going public with 'university board business'
The Christian Post asked DeMoss to respond to Liberty University's statement.
"I will just say that the university's explanation of the executive committee's decision to ask for my removal from that committee continues to evolve, while my explanation has remained the same," DeMoss wrote in an email. "I have written communication from the president and the board chairman that contradict subsequent statements about the reasons for asking for my resignation as chairman of the executive committee."
Although DeMoss told The Washington Post that he has been "concerned for Liberty University for a couple of months now" and reportedly spoke out to voice concerns from Liberty alumni, faculty and supporters, he stressed in his statement to CP that he in no way discussed "university board business."
"That is obviously a matter of public record. There is not one word in the Post article about Jerry Falwell Jr.'s leadership or 'presidential stewardship' of Liberty University — people can draw their own conclusions about that based on his own words and actions," DeMoss added.
Liberty University responded on Thursday with a statement to CP which explains that the institution's position has not evolved, but rather been "fleshed" out.
DeMoss was never forced to resign
"Certain members of the executive committee did ask that he leave that committee and serve on another committee. Each member had their own reasons for making this request," the Liberty University statement explained.
"But, the executive committee has no power to remove one of its members. Only the full board has that power. So, Mr. DeMoss' decision to resign that committee was his own. It is possible that he may not have known that the executive committee had no power to remove him under the by-laws but, either way, the full board voted unanimously the next day to accept Mr. DeMoss' apology and to allow him to remain on the board."
Although DeMoss argues that he did not discuss Liberty University board business with the media, Liberty University general counsel David Corry told the News & Advance earlier this month that the "very fact" that DeMoss expressed concern about the institution with The Washington Post interview was an issue.
"The university needed to point out the obvious problem with university leadership going to the media with complaints about the president. Evaluation of the president is board business and is the function of the executive committee which Mr. DeMoss chaired," Liberty's follow-up statement to CP reads.
"Further, Mr. DeMoss told The Washington Post he had been concerned about Liberty University for some time and was breaking his silence to share these concerns and give voice to university constituencies who were now queasy about it.
"The university stands by its earlier statements that most [but not all] board members' displeasure with Mr. DeMoss are not related to his disagreement with Mr. Falwell's personal endorsement of Mr. Trump or a belief that Mr. DeMoss' motivations were entirely political. But, again, the entire board forgave Mark and voted that he should remain on the board."