Liberty U Says Falwell Sr. Confidant Wasn't Forced to Resign After Opposing Trump Endorsement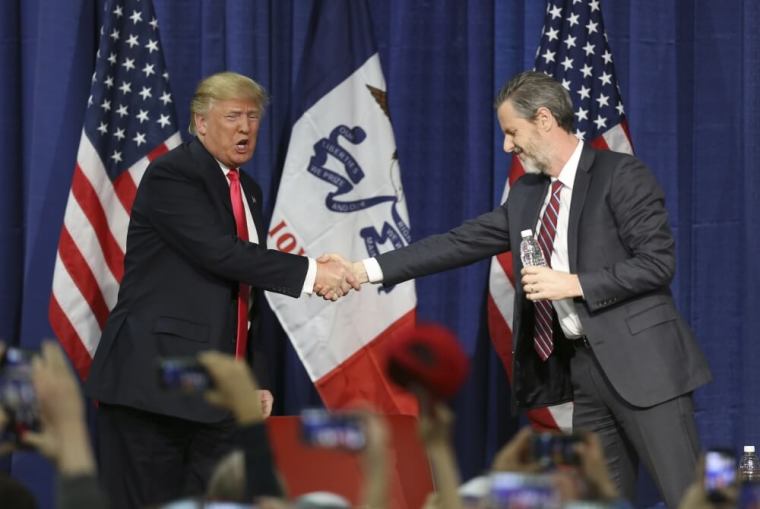 Liberty University says that the former executive committee chairman of the school's board of trustees was not forced to resign because he publicly voiced opposition to Liberty University president Jerry Falwell Jr.'s endorsement of Republican presidential candidate Donald Trump.
After Falwell Jr. endorsed the thrice-married billionaire real estate mogul for president in January, Mark DeMoss, a former Jerry Falwell Sr. confidant and chairman of the executive committee of the evangelical institution's board of trustees, criticized the endorsement in an interview with The Washington Post in March.
DeMoss, who was Falwell Sr.'s administrative services assistantfrom 1984 until 1991 and is the founder of the Atlanta-based DeMoss public relations firm, also said in The Washington Post interview that he had been concerned about the university for a couple of months but hadn't spoken out.
Patheos blogger Warren Throckmorton reported earlier this month that DeMoss was asked to step down from his position on the executive committee by other members of the committee and offered his resignation on April 25. Not only did DeMoss resign from the committee that he chaired but he also resigned from the board of trustees altogether.
A statement DeMoss provided to Patheos claimed that after his opposition to Trump was published, "Jerry and a number of fellow Liberty University trustees expressed to me and to the other trustees their disapproval of my speaking publicly about the subject."
DeMoss also claimed that executive committee members voted on April 21 to ask him to resign from the committee. Liberty University, however, maintains that no vote was taken by the committee asking for DeMoss to resign but that individual members of the committee personally asked him to step down.
Additionally, the school explained that the committee expressed no interest in having DeMoss step down as a member of the board of trustees.
In another statement that was later provided to Patheos, the school also asserted that individual members of the executive committee had "varied reasons for their displeasure" with DeMoss, "most of which are not related to his disagreement with Jerry Falwell's personal endorsement of Donald Trump."
School believes DeMoss went public with 'university board business'
In a statement provided to The Christian Post earlier this week, Liberty University asserted that individual committee members' displeasure with DeMoss "arose out of his going to the press with university board business."
"The interview with The Washington Post went well beyond disagreeing about Donald Trump as the best candidate for president," the statement explained. "Mr. DeMoss publicly communicated his concerns about Liberty University as chairman of the board's executive committee."
"He shared a negative evaluation of Jerry Falwell, not as an individual, but concerning his presidential stewardship of the values and legacy of Liberty University," the statement continued. "It was an extraordinarily public way to deliver a message of disagreement, especially from one person in leadership at a university to another. It is simply not the way board members should discuss their concerns about the university or pronounce their evaluations of its president.
"As Executive Committee Chairman, Mr. DeMoss was a board member who could have single-handedly called a meeting to privately discuss his concerns with fellow board members and the president, which is the only appropriate way for such matters to be addressed by board leaders."
The Liberty statement went onto explain that "most universities would have immediately removed a board member who went to the media instead of the board with concerns about the university and with negative assessments." However, the statement argues that "Liberty's board extended Mr. DeMoss grace, voted unanimously to accept his apology and allowed him to stay on the board."