Limbless Evangelist Nick Vujicic Brings Thousands to Christ, Meets President of Slovenia on European Tour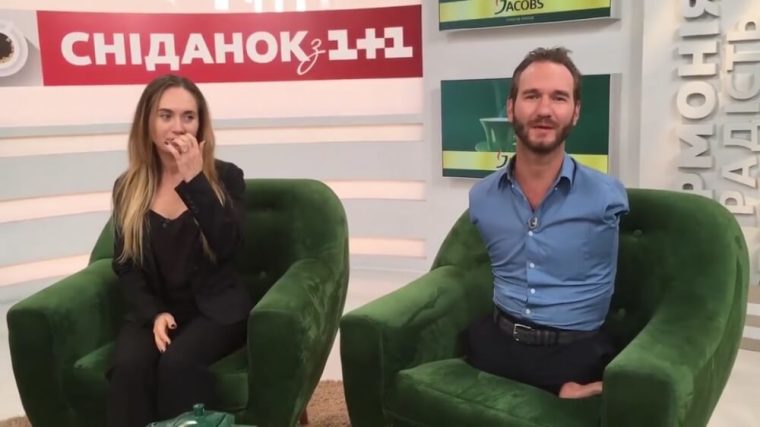 Famous evangelist Nick Vujicic, who speaks and inspires millions around the world with his story of hope despite being born with no arm and no legs, has shared information about his recent tour of Europe and the thousands who've come to Christ during it.
Vujicic has been posting on social media several snippets of his time in Europe, particularly in Ukraine and Slovenia last month, where he had the opportunity to meet national leaders and ministers before thousands of people.
"Hey guys, good morning. Last night was incredible, 60 percent of 5,000 people in the auditorium stood up to receive the Lord Jesus Christ. I am here on national TV to do a recap, and from here we go speak to the Parliament, the national government of Ukraine," Vujicic says in one of the videos, looking back at his time in Ukraine.
In another video he also talked about meeting Borut Pahor, the president of Slovenia.
"I just finished a meeting with the president of Slovenia, it was a wonderful encouragement and an enriching time. Tomorrow I will be speaking in front of students here in Slovenia, so please pray for us, and thank you for your love, prayers, and support," the evangelist shared.
Vujicic also appeared on Slovenian talk shows where he ministered about the Gospel, and said on Facebook: "Had the most amazing interview in Slovenia! The most popular talk show host talked to me about how my book Unstoppable changed her life and led her to find Jesus. forty-five minutes later, we prayed for the country and God showed up big time! Thank you, sister!"
Unstoppable: The Incredible Power of Faith in Action, was released in 2012 and shared how the evangelist overcame some of the most difficult periods of his life, and how he was blessed with a joyful married life.
"I actually like this book a little bit better, because it's deeper and more transparent, I think. I share about the depression I went through in 2010, and share that basically 'unstoppable' doesn't mean bullet proof. When you can't walk, God's going to carry you," Vujicic told The Christian Post in a previous interview in which he also talked about his first book, Life Without Limits.
"With me, in my life, I know that there are people who can get encouraged to see how God can use a man without arms and legs to be his hands and feet, but I wanted people to know that I am not a superhero, it is not about me, or how well I speak or articulate — it is the Spirit of God. It is an active relationship with him," Vujicic told CP.