Limbless Evangelist Nick Vujicic: I'm Not an Atheist, I've Seen 10-Foot Tall Demons in My Hotel Room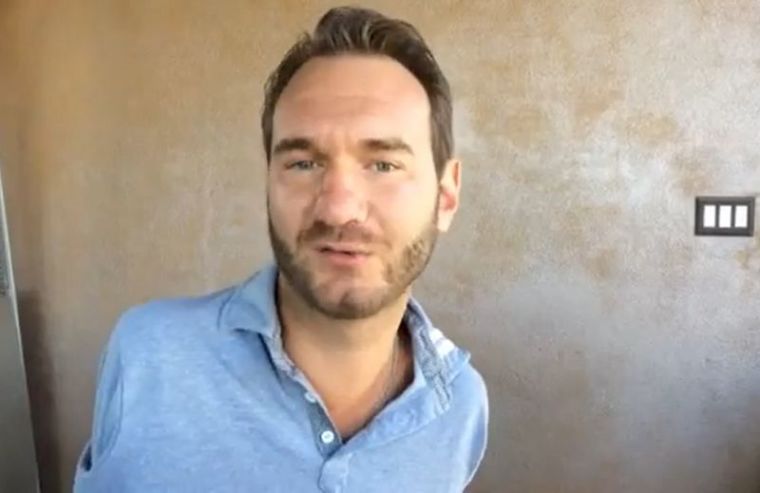 Nick Vujicic, known as the "limbless evangelist," has said that one of the reasons why he's not an atheist is because he has seen things that science can't explain, such as 10-foot-tall demons in his hotel room.
Vujicic, who was born with no arms and no legs and has been inspiring millions throughout the world with his story of overcoming the odds, answered a few questions about his faith in a Facebook video on Friday.
In one of the questions he was asked, "How can we know God's love is real, and how do you know it?"
To which he responded, "I can't show you God, I can't show you an angel, but one of the reasons I am not an atheist, and one of the reasons why I don't believe science explains everything, is because I have seen miracles, and I have seen demons."
Vujicic continued, "I've seen 10-foot-tall demons, 5-foot wide walk in through my San Francisco hotel room. And I felt the demon's presence, the demonic presence, before the demon actually walked through the wall."
He suggested that the existence of things like voodoo and witchcraft, which he said are real, also show that science can't explain everything.
"There is a spiritual realm," the evangelist insisted.
"You have to walk by faith despite what you see, despite what you feel — you believe it."
Earlier in the Facebook video Vujicic explained that the mission and purpose of his ministry, Life Without Limbs, is to equip people to be "the hands and feet of Jesus," so that they know that God loves them.
In response to some of the other questions, Vujicic talked about his growing family, and how he balances spending enough time with them and his ministry.
He said that Kanae, his spouse, is an "amazing wife, super mom, she is unbelievable."
Kanae recently gave birth to Olivia and Ellie, the couple's twin daughters, bringing their number of children to four, including their two older sons.
"In 2017, my total days away from home was about 105 days. [In] 2018, it's going to be 84 days. And we're going to stick to it, by the grace of God reaching the most amount of people ever," Vujicic said of his plans.
The author and inspirational speaker reported on a few major outreach initiatives last year, and said that his team witnessed 400,000 people repent for their sins and choose to follow Jesus Christ at an event in Ukraine in October 2017.
"The biggest event that our team at Life Without Limbs has seen and maybe the largest event ever in Europe — 800,000 people in the streets of Kyiv Ukraine! Thank you God," Vujicic wrote on Facebook at the time.
He added, "400,000 repented of their sins and began their spiritual journey with Jesus. Now LWL celebrates the witness of 1 million decisions to walk with and trust God in everything face to face."
When he is home, however, Vujicic said his focus is on his family.
"Every week that I am home, me and Kanae, we do have a date. I am also about to start taking my son on a date once a week, and I also don't want to forget my family. I am starting to take out my mom for a date every second week, and my sister every second week."
The evangelist advised that in relationships, it's important to take time to turn off the phone, and be real.
"Having those people in our lives is the greatest blessing, so we should live like it is," he said.