Bobby Schuller Calls Limbless Evangelist Nick Vujicic 'Our Generation's Billy Graham'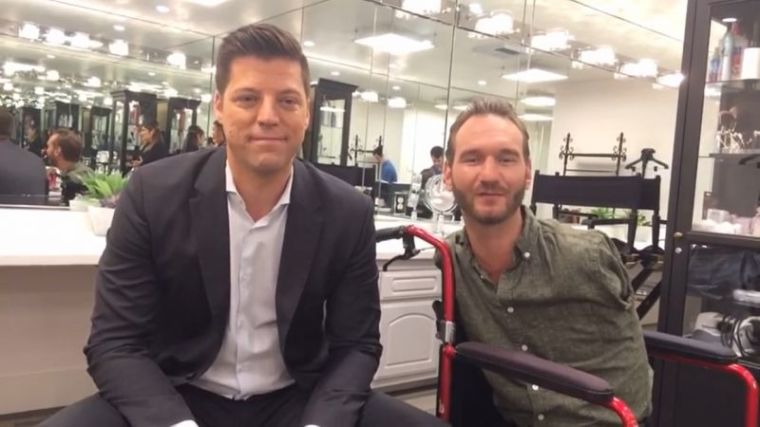 Pastor Bobby Schuller of Shepherd's Grove church in California has called evangelist Nick Vujicic this generation's Billy Graham, due to his popularity and influence.
Schuller and Vujicic, who was born without arms and legs, spoke together in a Facebook video posted on Tuesday ahead of the latter's appearance on the "Hour of Power" television program, the air date for which is yet to be announced.
"You are such an inspiring storyteller, and I think that a lot of people, when they listen to you, they feel like they can do anything," Schuller told Vujicic in the video.
"You're so good at preaching that encouraging word, and also so good at bringing people to faith."
The pastor noted that both men are passionate about "inspiring everybody," and added that Vujicic is especially good at showing people that "God loves them and wants to see them thrive and succeed."
Schuller, who is the grandson of Robert H. Schuller, the original host of "Hour of Power" and founder of the former Crystal Cathedral in California, noted that the two have been friends for 10 years now.
"I remember when you preached at the Crystal Cathedral, that was the first time that we met," the pastor recalled.
He remembered "just being blown away" by Vujicic and thinking "this guy is one of the greatest communicators of our day."
"You're going to be our Billy Graham, our generation's Billy Graham, I just believe that," Schuller told Vujicic in the video.
The Life Without Limbs evangelist also expressed his gratitude for Schuller's ministry and added, "Whatever God has, we just walk by faith and not by sight, and may God continue to open up doors for you."
Much like North Carolina's Graham, Vujicic has also toured the world with a message of hope, inspiring multitudes to follow Jesus Christ.
The evangelist has encouraged millions through his books and messages, recalling his struggles with depression and bullying growing up without limbs, and his faith in God that has guided him through the dark times.
His Life Without Limbs ministry recently reported of 400,000 people repenting of their sins and choosing to follow Jesus Christ at an event in Ukraine, which was the largest response it has seen.
"The biggest event that our team at Life Without Limbs has seen and maybe the largest event ever in Europe - 800,000 people in the streets of Kyiv Ukraine! Thank you God," Vujicic wrote on Facebook last week.
"400,000 repented of their sins and began their spiritual journey with Jesus - Now LWL celebrates the witness of 1 million decisions to walk with and trust God in everything face to face," he added.
Watch Schuller's video with Vujicic below: