Lolo Jones Wants to Ask Tim Tebow on a Church Date?
Track star Lolo Jones recently qualified for the U.S. Olympic team, but the headlines that followed her Monday night interview with Jay Leno were focused primarily on what many perceive to be her romantic compatibility with New York Jets quarterback Tim Tebow.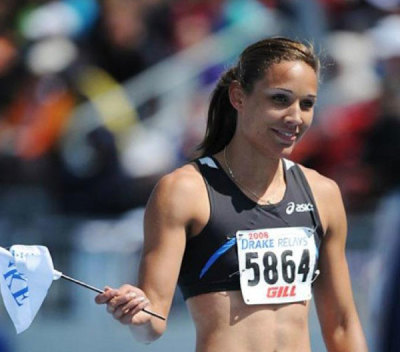 During the interview, the 29-year-old hurdler said she never thought she would get so much attention for simply revealing that she is still a virgin. While some of her Twitter followers offered their support for her decision to remain abstinent until marriage, Jones says she also received backlash from some when she made the announcement.
"Everybody's mad at a girl who doesn't put out," she told comedian Louis C.K., who was also a guest on the show.
When asked about her dating life, she said she is currently single but uses Twitter as her primary method of finding dates. She has tried other methods as well, but says she has bigger things on her mind right now.
"I did eHarmony, it didn't work out ... but right now I'm just seriously focused on the Olympics," said Jones.
In May, after Jones spoke with HBO's "Real Sports" about her decision to not have premarital sex because of her Christian faith, media outlets tried to link her to the sports world's most well-known Christian and virgin, Tebow.
Nick Mangold, who plays center for the Jets, added fuel to the fire when he announced that it was his personal goal to unite Tebow and Jones with one another.
"I'm trying to get @timtebow to accept that he and @lolojones are a match made in heaven. #Lobow," Mangold said via Twitter in May.
Jones jokingly told Leno that she knows a foolproof way of getting Tebow to agree to a date: she will take him to church.
"I'm pretty sure I'm just going to invite Tebow to church," she said. "It's a 100% way not to get rejected."
While many have pressed Tebow to speak more about his views on hot-button topics, like gay marriage, he has generally steered clear of commenting on controversial political or social issues, preferring instead to talk about football and faith.
Following Jones' appearance on "The Tonight Show," Yahoo! Contributor Network's Eric Holden said a Tebow-Jones date would, at the very least, make known the quarterback's views on interracial dating. Tebow, who is Caucasian, has not said whether or not he would consider dating Jones, who is of French, African-American, Native American and Norwegian descent.
While most Americans approve of interracial marriages today, Holden points to Bob Jones University, a Christian school which had a ban on interracial dating as recently as 1999, to show that it is still a sensitive issue with some people today.
"In my view, it doesn't say anywhere in the Bible that it's wrong to date or marry a person of a different race," wrote Holden. "If Tebow took Jones up on her 'church date' offer, he would essentially be showing to the world that he supports the concept of interracial dating."
At the Olympic trials, which began last Thursday and continue through this week, Jones had a "terrible meltdown" after getting off to a rough start. She turned to her coach for encouragement before she eventually qualified, and says she also has her pastor, her sports psychologist, her mother and an ex-boyfriend on speed dial to help her when she needs extra motivation.
Tim Tebow's New York Jets Teammates Tease About Him Lolo Jones