Tim Tebow's Virginity Mocked in Comedian's Rolling Stones Parody
A new parody song created by radio personality and comedian Artie Lange pokes fun at Tim Tebow's virginity through the melody of the Rolling Stones hit, "She's A Rainbow."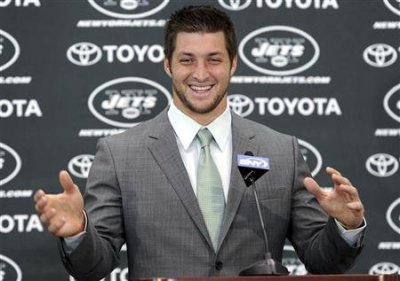 The lyrics to the song, which has been retitled, "He's Saint Tim Tebow," are explicit and alternate back and forth between focusing on the New York Jets star's virginity and suggesting he has God-like powers. Lange performs the song himself, but with less-than Keith Richards-like vocals.
"Horny girls you must beware, he doesn't care, he's Saint Tim Tebow. He's a quarterback who has no sex, I'm so perplexed, he's Saint Tim Tebow," Lange sings.
He also sings lines like "He'll free you from Satan's grip, just don't kiss his lips" and "He'll help the Jets get some wins, then forgive their sins" in the song.
Lange, a former "Howard Stern Show" sidekick, recorded the parody for his current program, "The Nick and Artie Show," which is broadcast via satellite radio.
The quarterback's dating life has been a hot topic of discussion during this NFL offseason and, as Lange puts it, Tebow is an "Adam without an Eve." A number of Tebow dating rumors have made the Internet rounds over the last several months, including those that tied him in with celebrities like country artist Taylor Swift, skier Lindsey Vonn, pop singer Katy Perry and more.
Most recently, some people – including Tebow's own teammates – have pushed for him to date Olympic hurdler Lolo Jones after she announced her commitment to maintaining her virginity until marriage on HBO's "Real Sports." Late last month the quarterback's teammates spurned him on by chanting "Lo-lo! Lo-lo!" in the team's locker room.
When asked by one of her Twitter followers why she wants to save herself for marriage, Jones responded, "I am a Christian. Saving myself for marriage [because] that's what the Bible taught me to do."
One of Jones' more notable followers, Jets linebacker Nick Mangold, suggested to her via the social media site that Jones and Tebow are a "match made in heaven," and Jones' response only added to the dating rumors.
"Thanks Nick," she said, "but I actually heard tebow has a girlfriend he just isn't saying it publicly. The search continues."
In on-the-field news, the New York Daily News reported Monday that Tebow was invited to attend starting quarterback Mark Sanchez's week-long "Jets West" passing camp, which will take place in Southern California in a few weeks. Tebow has accepted the invitation.
Every move made by Sanchez and Tebow has been scrutinized by the media ever since Tebow was traded from the Denver Broncos to the Jets earlier this offseason. Many have questioned whether or not the high-profile Christian quarterback will assume the starting quarterback position, although representatives from the team have denied that he will be anything more than a backup to Sanchez.
Tim Tebow's New York Jets Teammates Tease About Him Lolo Jones (VIDEO)