Louie Giglio shares how worship helped him cope with depression: Jesus is the 'antidepressant'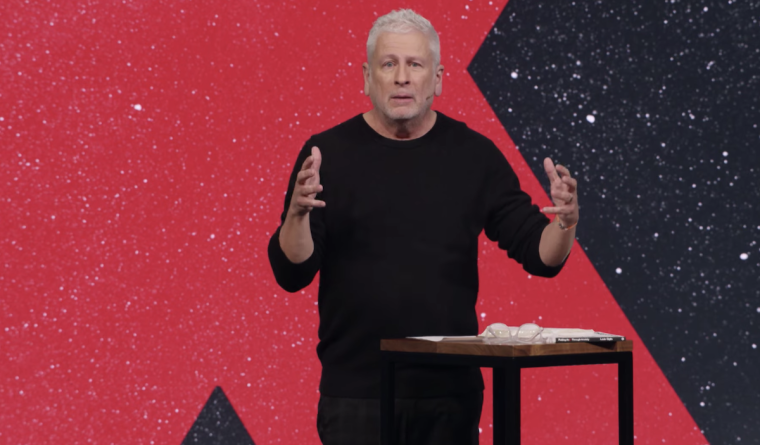 Pastor Louie Giglio of Passion City Church in Georgia opened up about his past struggles with anxiety and depression and said he discovered worship to be an effective "weapon" against his mental health problems.
The 64-year-old pastor shared in a Feb. 26 sermon that during his past struggles with depression and anxiety, he realized that worshiping God helped shine some light into the darkness he was facing. 
"It's OK to have feelings. But, the train wreck happens when you let your feelings lead you. So, it's fair enough to say 'I feel sad today,' but it's not good to say 'I'm going to let the sadness take the pen and write the story of today,'" Giglio preached.  
"One of the ways that we can fight this—and it took me a couple of months into my hole to really figure this out — is worship. Worship is a weapon."
Giglio said that he saw worship "poke a hole in this amazing shroud of darkness and let just a little pinhole of light in," adding that "a pinhole of God's light is enough light to start changing the circumstance. You don't really need a whole beam of light. You just need a little tiny ray of light, if it's God's light."
According to Giglio, the devil wants to steal joy away from humanity. He noted that people who suffer from depression want to "stay inside" and "keep the shades down."
"Why?" Giglio asked. "Because the enemy wants to block out the light. And one of the best ways to get the light in is through worship." 
Giglio emphasized that although Jesus is a healer and worshiping Him can help people cope with their depression and anxiety, many people who do these things will still struggle. 
"Depression is real. And it can take you out. I mean out. And so, to come in and just brush that off and say 'oh, you know, we believe in God and we have faith and so let's just brush depression by the wayside' is not a good strategy," Giglio said. 
"I want us to make sure we understand that everybody's different. So there isn't going to be a one-size-fits-all solution." 
Giglio said he learned a valuable lesson during the healing process: It's essential to gaze toward Heaven when worshiping and not to focus more on the battle than on Jesus.   
"I just say this gently. When you look up and worship, it allows us to remember that God is central and He needs to be central in our affection and our worship," Giglio said.  
"When we're in one of these holes and our heads are down, we have a tendency to worship 'the thing.' And people say 'no, we're not worshiping the thing.' No, you are, because every conversation you have is about 'the thing.'" 
Giglio said that during his battle with his anxiety specifically, he had to remember to redirect his focus onto Jesus and not the struggle he was facing. 
"I found that I started listening to myself when I was in this hole. Every conversation was the status update on my anxiety today, the status update on how I was managing today," Giglio recalled. "How was I feeling today?
"All the conversation was about the anxiety. Therefore, the thing on the pedestal was the anxiety and the thing that got all the attention was the anxiety."
Giglio remembered reevaluating where his heart was and where his worship was, and he realized he needed to centralize Jesus.
"I had to make a decision. Anxiety is in the story, but it's going to need to get talked about less than the God who is writing the story," Giglio preached.  
"Depression is in the story. But depression is going to need to have the volume turned down a little bit and I'm going to need to press play right now. And I want Jesus' name in the story."  
Giglio said he knows it won't always be easy for people to engage in worship if they are facing anxiety and depression, but he wants "to encourage" people to pursue worship.
"You have the power to open Spotify and press play. And it might not change everything in 45 minutes. Because it took 45 weeks getting into where you are. It might take 45 weeks to get out of where you are," Giglio said. 
"But, you have to have a turning point somewhere. And the turning point is when you press play on the song of Heaven." 
Giglio said that those who put their trust in Jesus will see Him in Heaven one day. The pastor emphasized that "my future is with God."
"And even if this journey never completely ripens on Earth, it will fully ripen in glory. And I will have no suffering, no tears, no sorrow, no darkness," Giglio said. 
"There is no depression where I'm going. There is no anxiety where I'm going. There are no antidepressants where I'm going because The Antidepressant is where I'm going."