Lysa TerKeurst, husband renew vows after overcoming infidelity, public separation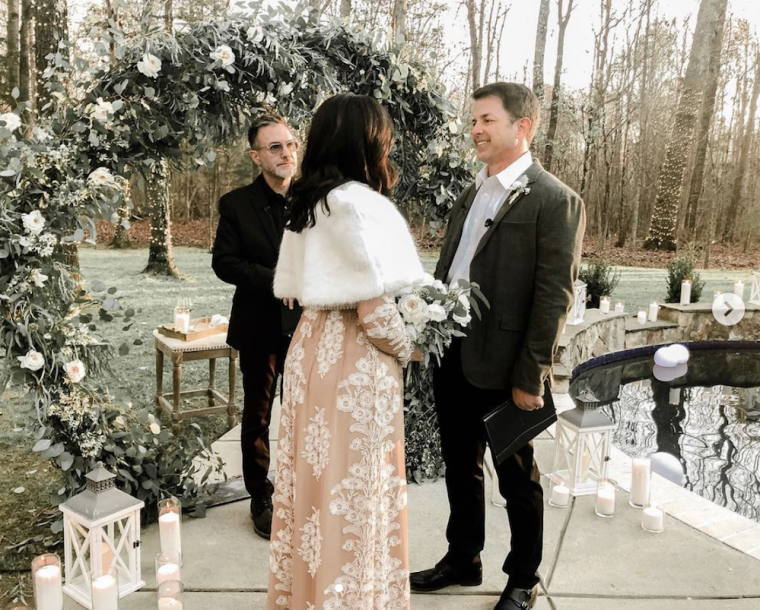 Over a year after announcing that she would be pursuing a divorce with her husband, Proverbs 31 Ministries President Lysa TerKeurst renewed her vows this holiday season to her husband of over 25 years.
"On an unusually sunny Tuesday in December, we dressed up a bit and whispered healing words, heartfelt promises, and holy vows," TerKeurst wrote on Instagram last week with a photo of herself and her husband, Art, during the ceremony. "A million prayers. A miracle answer. A marriage restored."
It was in June 2017 when the popular author and international speaker dropped a bombshell on her supporters and announced that she would be separating from her husband and pursuing a divorce due to his ongoing infidelity and substance abuse. 
TerKeurst explained that when she first found out about Art's affair with a woman he met online, she had decided not to divorce him. But even after fighting the "hardest battle" of her life to save her marriage for the last couple of years, "he has continued to abuse substances, be unfaithful, and refused to be truthful to me and our family."
"After much prayer and consultation with wise, biblically-minded people, I have decided that Art has abandoned our marriage," she said, utterly heartbroken.
Shortly after the shocking news, she announced that she was also diagnosed with breast cancer and would need to undergo a double mastectomy.
TerKeurst recently released a book, titled It's Not Supposed to Be This Way: Finding Unexpected Strength When Disappointments Leave You Shattered, about her devasting journey. In it, she wanted to be transparent with all those who look to her for guidance by sharing the hard moments of her family's story and how the Lord has guided her through it all.
She is now cancer free and after extensive counseling, fasting and, as she told CP in a recent interview, "keeping the lines of communication open," the couple have rededicated their hearts back to each other by renewing their vows.
The ceremony took place in North Carolina with their closest family members, all who took to social media with posts hailing the couple as "heroes" for their inspiring story of redemption.
The 49-year-old minister has made it her life goal to empower other women and encourage them in their marriages. Whether through counseling, speaking engagements or her books, she has always preached hope and restoration.
Now, her life has become a true testament to that through hope in her own despair.
"Never doubt we serve a God who still does miracles. In the middle of the work He did from the devastation in my marriage nothing looked like I hoped and everything felt impossible," she wrote in another blog post. "But all the while when I saw nothing, God was doing something. And in His way and His timing, new life came." 
The minister ended her Instagram testimonials with a photo of her and her husband kissing at their vow renewal celebration.
"I still cry over what was. I still find myself wishing the hurt wasn't part of our story. But God has whispered deep into my soul, 'I haven't 'cursed' you with this. I've 'entrusted' you with this.' Oh God, may we be found fiercely faithful," TerKeurst declared.
"We will go to those on the brutal battlefield of heartbreak and speak Truth. Show redemption. And call forth life from dead bones in the name of Jesus. Then at the end of each day, we will seal our commitment with a kiss of togetherness. For we can't change what was. But we sure can lavishly love, honor, and appreciate the breathtaking reality of what is."
See TerKeurst's ceremony photos and read her full Instagram posts here.