Maddi Runkles, Pregnant Teen, Graduates in Private Ceremony After Christian School Stands Ground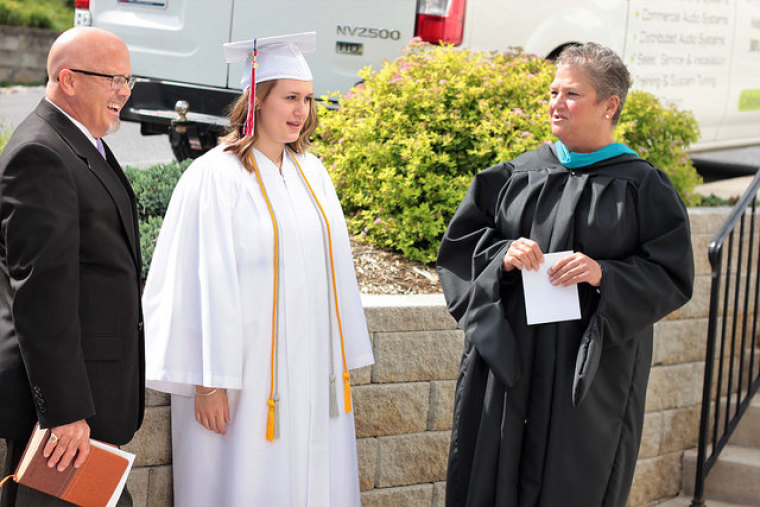 Despite a very public campaign asking Heritage Academy, a small independent Christian school in Maryland, to allow her to march at the school's graduation ceremony, Maddi Runkles, an 18-year-old student who got pregnant, was forced to march at a private ceremony attended by family and friends on Saturday.
"We are so proud of Maddi for not only her courage to make a good decision in difficult circumstances, but to be an example to other students in similar situations and challenge Christian schools on their policies towards pregnant students like herself," Kristan Hawkins, president of Students for Life of America, said in a statement on Runkles' graduation.
Runkles, "a practicing born-again Christian" with a 4.0 average at Heritage Academy, played on the soccer team and was president of the school's student council. In January, however, she found out she was pregnant, according to The New York Times.
The teenager, who had promised to stay away from premarital sex, drugs and other things during her time at the school through a signed code of conduct, was barred from walking in her graduation ceremony after school officials found out about her pregnancy.
Students for Life of America, citing the fact that Runkles chose to give her baby life instead of aborting her child, took on her cause to march in Heritage Academy's graduation. But the school refused to back down from its decision.
"Let me clarify some facts. Maddi is being disciplined, not because she's pregnant, but because she was immoral," said the school's administrator, David R. Hobbs, in a letter to the school community.
While applauding Runkles for not aborting her child, he noted that she had also agreed to follow school rules or suffer the consequences by signing the Student Pledge accepted by every student from 5th through 12th grade.
The pledge "states that this application of Philippians 4:8 'extends to my actions, such as protecting my body by abstaining from sexual immorality and from the use of alcohol, tobacco, and illegal drugs.'"
The controversy made national headlines but officials at her small Christian school remained firm in forbidding Runkles from graduating with her peers.
So on Saturday, with about 100 family, friends and supporters, Runkles closed the high school chapter of her life in a ceremony where she was the only student to receive a diploma.
Hawkins, who spoke at the graduation, presented her with a college scholarship for $16,000 and nearly 7,000 messages of support and encouragement from people in over a dozen countries. Days after she discovered she was pregnant, Runkles was accepted to attend Bob Jones University, a Christian liberal arts school in Greenville, South Carolina.
"I have no doubt that hearts and minds will be changed because of Maddi's courage and willingness to share her story. We gave her nearly 7,000 messages of support today that poured in from people around the world who encouraged her and were inspired by her. It was an honor to celebrate Maddi's achievements today and we can't wait to meet her baby boy in the fall," Hawkins said.