'High Offensive' Madonna 'Rebel Heart' Concert Draws Ire of New Zealand Archbishop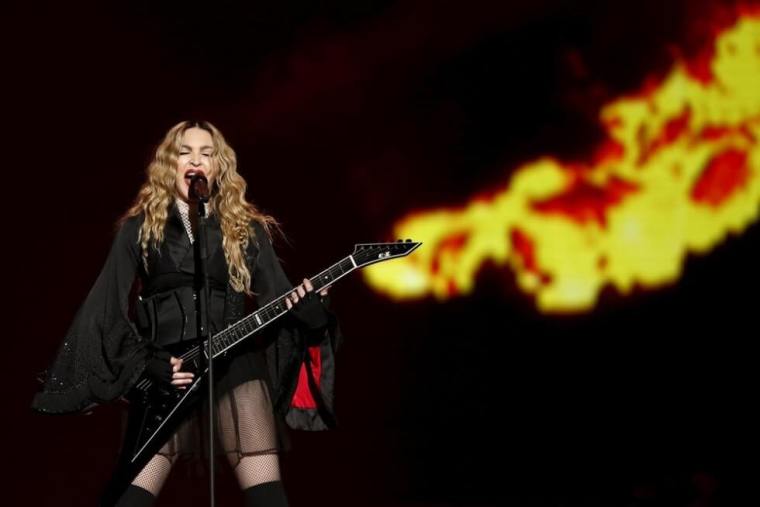 Madonna's international "Rebel Heart Tour" is continuing to draw the ire of Catholic leaders, the latest is Bishop Patrick Dunn from New Zealand.
"There is no question in my mind that some of Madonna's material is highly offensive to Christianity and will be found just as offensive to the majority of people of religious faith, as well as many cultural sensitivities," Dunn said in an NZ Herald report. "Here in New Zealand religion is not always taken very seriously, yet in addition to Christianity there are people of many other faiths, all together representing over half our population. In a multi-cultural and multi-faith society like New Zealand, it is imperative that entertainers not presume their own cultural perspective is that of the majority. Often it is not."
The singer will perform two shows at the Vector arena in Auckland, New Zealand, on Saturday and Sunday evening. According to the Herald, Madonna's stage at the arena is set in the shape of a crucifix with her Rebel Heart tour logo at the end of it.
Before stopping in Auckland, the international tour was in Singapore where Madonna was forced to tone down her act, cutting out performances of "Devil Pray" and "Holy Water," which features scantily clad nuns dancing on crosses that represent stripper poles.
Archbishop William Goh of Singapore spoke out against the show that took place at the Singapore Sports Hub Feb. 28. In a statement released by his office, Goh insisted that Catholics in Singapore should not attend because of the concert's anti-Christian values.
"There is no neutrality in faith; one is either for or against. Being present (at these events) in itself is a counter witness," he said according to The Strait Times. "Obedience to God and His commandments must come before the arts."
While Dunn agreed with Goh's sentiments, he did not specifically tell Catholics not to attend Madonna's concert. After some people expressed that there are bigger issues to worry about than speaking out against Madonna, one member of Parliament in Singapore defended religious leaders decision to do so.
Parliament member Alex Yam said he understood why the Catholic Church spoke out against the singer.
"Like any parent or leader, His Grace has issued a statement to his own flock, in accordance to the teachings of the Church. And a leader needs to make known his views and stance to others in authority," Yam wrote in a Facebook post. "When any entertainer purports to burn a religious symbol for entertainment's sake, to denigrate religious sensitivities for entertainment's sake, to take different symbols and profane them, then religious leaders have a moral obligation to state their views to their followers."
In 2006, Madonna was excommunicated from the Catholic faith after using similar symbols during her "Confessions Tour" stop in Rome. Last year, she spoke to Rolling Stone about her relationship with the church.
"I have a long relationship with the Pope, with the Vatican, with the Catholic Church, with my excommunication," Madonna revealed. "Anyway, you know, I was raised a Catholic, and no matter what spiritual path I might go down, I always feel some kind of inexplicable connection with Catholicism. It kind of shows up in all of my work, as you may have noticed."