Mainline Protestant Activist Wants Church to be More Welcoming of Satanists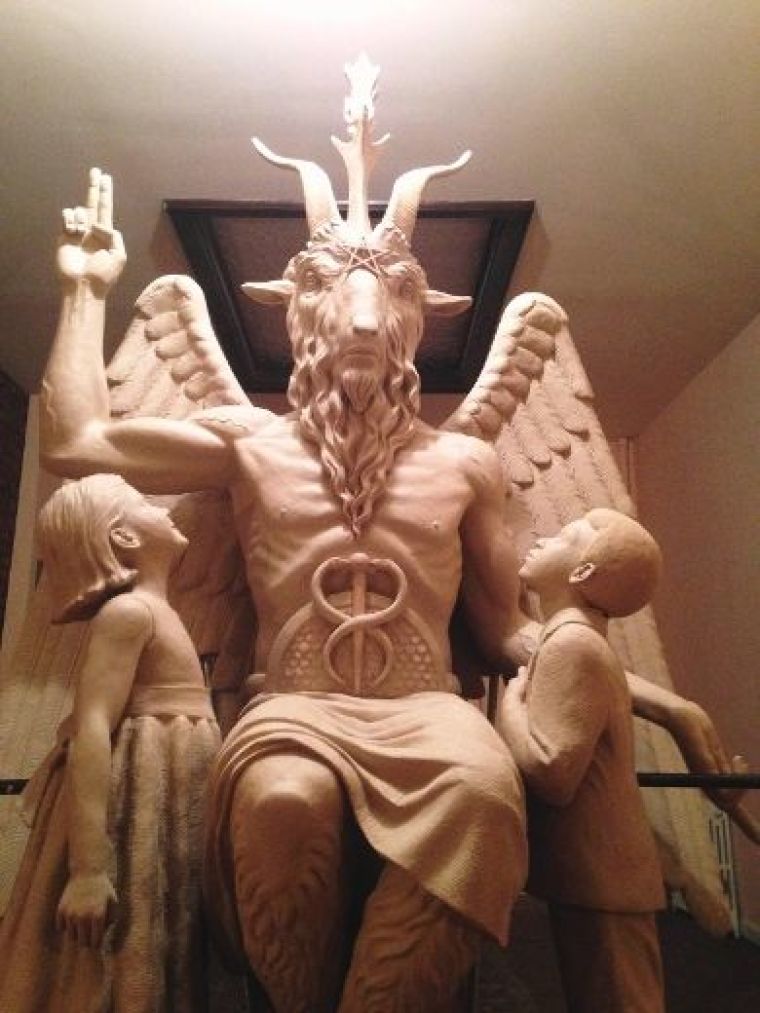 For centuries and centuries it has been widely accepted in American Christianity that Satanism is a bad thing. But hopeful reformers look to make the Church more welcoming of people it has long marginalized as being evil and wrong.
In recent years, organizations like Cheap Grace Ministries Network, Light Bearer Presbyterians, Accuser Baptists, and Abaddon Out Loud are trying to help churches become more accepting of their Satanic neighbors.
The Not-So Right Reverend Joan Shelby Robins, executive director of CGMN, sat down with Buzz Vine to discuss her reasons for joining the movement, what direction it will go, etc. etc.
BV: How did you come to join this effort to make churches more welcoming of Satanists?
Robins: It was sort of an evolution on my part. Growing up in the Bible Belt, I was taught that Satan is wrong, and Satanists are going to Hell. But, really, that was just people hating what they didn't understand.
As I've grown up and befriended many in the Satanic community, I've realized they're human beings, just like you and me. And they should not be judged just because they worship the Devil.
Christianity teaches us that people have an inherent tendency to do evil. That means that Devil worship is genetic, and if it is genetic then it must not be wrong.
BV: As I understand, the Bible specifically says that the Devil is bad and that he is the enemy of God and the Church. How do you respond?
Robins: Well, let me just stop you there and say that Christian theologians are not of one mind on what the Bible says about the Devil. It is clear that the writers of the books of the Bible were heavily biased towards believing that Satan is a source of evil.
We need to keep these accounts within their proper context and realize that there is no blanket denunciation of the Devil in the Bible. All the various condemnations are really about the Devil in that particular time and place; they do not necessarily apply to the modern day.
Furthermore, Jesus never specifically condemned Satanism.
BV: Actually I am pretty sure that Jesus —
Robins: As I was saying, the Bible can be interpreted as saying that the Devil is wrong, but that's not the only interpretation out there. I mean, if we applied the Bible to our lives fully, we wouldn't be allowed to eat cheeseburgers and that's stupid … I mean, it is stupid to do it for that reason. If you're vegetarian and you refuse to eat a cheeseburger, I'm not knocking that. That's fine. I welcome you just as you are. As the Pope said, "Who am I to judge?" But if you use the Bible to justify your position, then you are close-minded.
BV: Okay. Um, moving along … how do you respond to those who may feel so offended that their church is welcoming Satanism that they choose to leave in protest?
Robins: I think it is sad when people leave because they are not yet ready to welcome members of the SDWOQ community to their sanctuaries.
BV: SDWOQ?
Robins: Satanists/Devil-worshippers/Occultists/Questioning. Some people don't bother to add the Q part, but I do.
BV: Okay.
Robins: Like I was saying, I have heard too many stories from people growing up who wanted to be welcomed into the Church, but they and their families left when the Church showed its ugly side and trashed talked their Satanist beliefs. The Church can do better.
BV: But once again, far more people would leave a congregation that said it was going to allow Devil-worship. How do you respond?
Robins: Then they can find another church. Who cares about those bigots?! They should stop being so judgmental. The idiots.
Society has already decided whether or not Satanism is acceptable. And whatever society does, the Church must do the same or die. Die, I tell you, die!
BV: Last question, have you seen any indication that your movement can be a success in the Mainline Protestant Churches?
Robins: I admit it is going to take a long time, but I believe eventually churches will realize how wrong they have been all these centuries in refusing to recognize the sincere love Satanists have for their Dark Lord.
A big step forward was in May 2013, when The Episcopal Church Presiding Bishop Katharine Jefferts Schori preached a sermon wherein she rightly denounced St. Paul for "curing" a girl of a demon.
There was a time when no church in America would condone evolution, frivolous divorce, homosexuality, or abortion, but lo and behold those types of Protestant churches are basically the norm.
All it will take is a matter of time. We here at Cheap Grace Ministries Network long for such a time to occur when the watchman is asleep.
WARNING: THE ARTICLE ABOVE IS A WORK OF SATIRE. PLEASE SHARE RESPONSIBLY.