Man who burned historic black church with 'vote Trump' spray-painted on wall sentenced to prison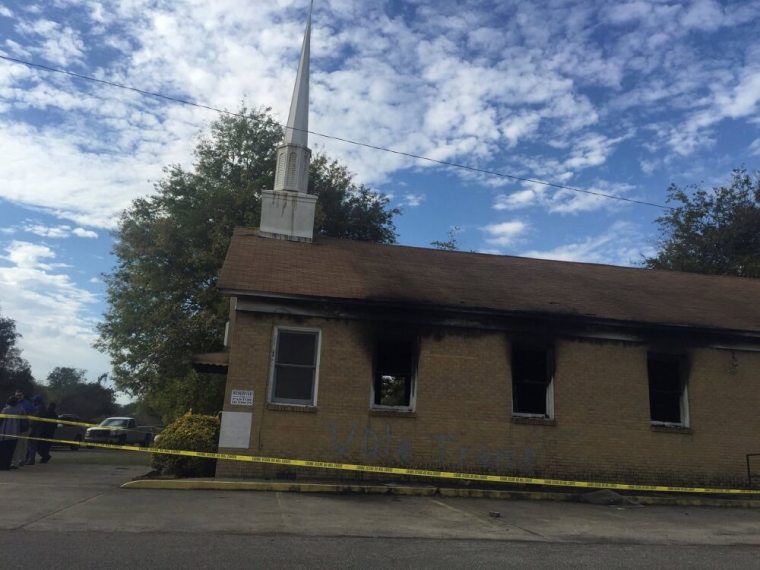 A Mississippi man who set fire to a historic black church he attended has been sentenced to 10 years in prison.
Hopewell Missionary Baptist Church in Greenville was burned down one week before the 2016 presidential election and was spray-painted with "Vote Trump" on the outside of the building. At the time, investigators said the arson was being investigated as a hate crime.
Andrew McClinton, 47, who was a member of the African American church, pleaded guilty to arson on March 28 but did not confess to spray-painting the church.
Washington County District Attorney Dewayne Richardson told The Associated Press on Thursday that McClinton was "involved in illicit activities at the church and set the fire to prevent fellow congregants from meeting the next day to discuss the activities."
"He was trying to hide that information from being disclosed," Richardson said.
Richardson added that police believe McClinton acted alone, and the investigation is closed.
McClinton has previous felony convictions for attempted armed robbery in 1997 and armed robbery in 2004, both in Mississippi, and was sentenced as a "habitual offender," the AP added. He will not be eligible for early release.
"Circuit Judge Margaret Carey-McCray also gave McClinton a 10-year suspended sentence, with some of that suspended sentence under state supervision," according to the AP.
After the fire, Greenville Fire Chief Ruben Brown Sr. said at a news conference at the time that investigators had determined the fire was "intentionally set," Reuters reported. 
"Samples and evidence have been collected from inside the church and are being analyzed to determine the accelerant or ignition source," Brown said.
No one was injured at the church but it sustained extensive damage.
Greenville Police Chief Delando Wilson said at the time that the spray-painted  message "Vote Trump" on one of the church's exterior walls was "intimidating" to the community.
"It tries to push your beliefs on someone else," Wilson said at the time, "and this is a predominantly black church and no one has a right to try to influence the way someone votes in this election."
Greenville is located 120 miles northwest of Jackson, and a majority of it's some 33,000 residents are African American.
Pastor Carolyn Hudson said back in 2016 that the arson that destroyed the church founded over 111 years ago "left our hearts broken," Reuters reported. 
The congregation of about 200 members subsequently worshiped in the chapel at First Baptist Church of Greenville, whose congregation is predominantly white.  
A new church has since been built and some of the walls that survived the fire have been incorporate into the new church building.