Man praises God as family, childhood Bible are saved after horn goes off warning them of truck on fire near home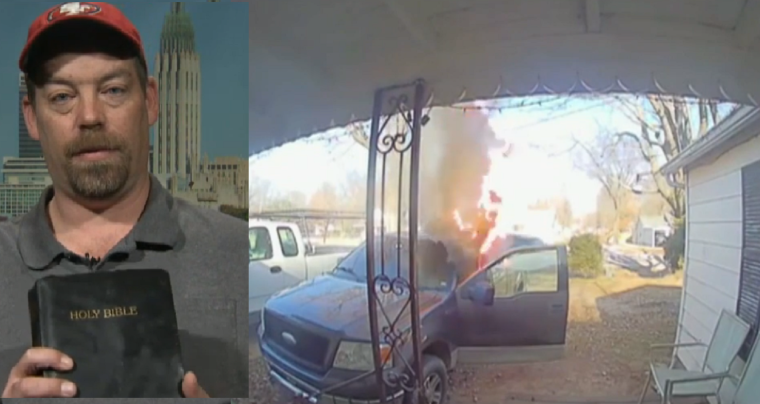 An Oklahoma father of five is still singing praises to God after the horn of his truck, which caught fire next to his home with his children inside, went off in time to warn them of the danger.
When firefighters were able to put out the blaze, they found the man's childhood Bible inside the truck unscathed by the flames.
"God has made it to my eyes that I should be grateful for being alive," the father, Steven Gaut, told Fox 6 in an interview after the fire that occurred on Dec. 9.
"God sent his angels," Gaut also wrote on a Facebook fundraiser that raised almost $5,000 to assist his family.
"My truck was parked 2 feet away from the house. If it wasn't for the horn blowing the house would've gone too. The Vinita Fire Department had to pry the Bible that was in a cloth cover. My Bible was in great shape and the cover was in bad shape," he continued.
In his message on the Facebook fundraiser, Gaut said he was hiding Christmas gifts in the garage of his home when his oldest son heard the horn of his truck go off.
"The kids were in their rooms playing. Got my Dad to watch the kids so I went [and] got some dog food from Atwoods. Got home and was putting gifts in my garage. I was out there for a few minutes and my oldest son heard a horn honking in front of the house. He looks out the window and sees my truck on fire. He immediately comes to the garage to tell me about it. I call 911. By the time I got to the truck it was totally engulfed with flames," Gaut said.
After firefighters put out the blaze they told him that someone at Atwoods, a farm and ranch supply company based in Enid, Oklahoma, "likely threw a cigarette in the back of my truck."
Once the fire was out Gault said he assumed he'd also lost everything inside his truck including a cherished Bible he's had since he was 13.
"The first thing I asked for was to see if my Bible was OK," he told Fox 6.
 "The Bible was down there on the ground — and they had to pry it up from the case," Gaut said.
In a recent interview with Fox News, he said despite the fire the Bible survived, "it doesn't even smell like smoke either."
He further explained that if the fire had managed to reach his home before anyone was able to respond, it would have been devastating.
"I'm a single dad raising five kids and six in the summer, just had to go bankrupt due to the divorce. I'm very grateful no one was hurt and thank God for saving our lives," he wrote on his Facebook fundraiser.