Man Revived After Georgia Megachurch Intercedes During Service for a Miracle
Man Revived After Georgia Megachurch Intercedes During Service for a Miracle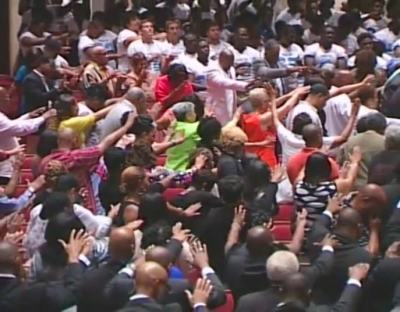 A man who was visiting a Georgia church last Sunday went into cardiac arrest in the middle of service, prompting the pastor and entire congregation to stand up and pray for a miracle while he received medical attention in a room next to the sanctuary.
Pastor Dr. E. Dewey Smith of House of Hope Church in Decatur, said he felt led by the Holy Spirit to pray for the man while he lay unconscious, fighting for his life.
"As we speak, they are performing CPR ... I just saw a dark cloud come in that room but I speak right now, in the name of Jesus, that God is going to have the last word," Smith said during the service, as shown on video. "I want you to open your mouth right now and start praying that life is going to come ... I want you to shout until that heart starts beating."
The video shows the congregation interceding for a miracle with their arms extended toward the direction of the closed room where the man was being attended while Smith remains calm on the pulpit but continues to pray with authority for healing.
"If he would have stayed home, he wouldn't have made it," Smith said, as he thanked the Holy Spirit for the revelation. "The only chance he has right now is the intercession of the saints, someone who believes in the power of prayer."
He continued, "Is that an IV I see? God told me to tell you all IV means 'I am victorious.'"
After several minutes of prayer, emergency personnel opened the door and raised an IV bag then a deacon of the church made her way to the pulpit to confirm the man "was gone but now he's back," prompting the congregation to break out in praise.
Smith was told by the deacon that the man was a guest who was visiting with his family because "something told him to visit church" that morning.
Smith said the Holy Spirit told him to tell the congregation, "Because God put him here while you all were here and he had somebody praying for him, 'I was gone but now I'm back.'"
Atlanta's CBS affiliate reports that some church members could not believe the miracle they were witnessing firsthand.
"Sometimes you feel like you don't even have words to be able to describe how amazing it was, how awesome it was to see God manifest his power," said Khaalida Forbes, the church's counselor. "What was even more of the blessing of God's hand was the fact that there were already emergency medical people that were already on campus at the time."
The medical responders were reportedly already at the church for another call that turned out to be a non-emergency but they had not left the church building by the time the man went into cardiac arrest.