Man Tattoos Face of Hero Charles Ramsey on Leg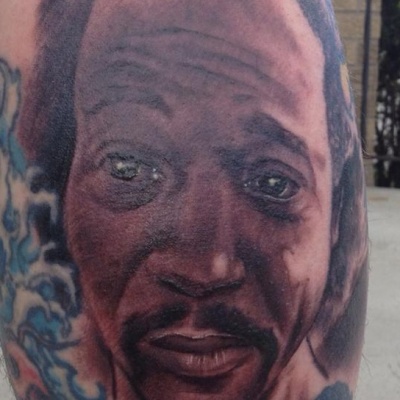 He inspired memes, t-shirts, a song and a collection of viral video spoofs. Now, Cleveland hero Charles Ramsey, who helped rescue three kidnapped women from sexual slavery last Monday, has inspired a local fan to ink a tattoo of his face on his leg.
Cleveland tattoo artist Rodney Rose offered the free Charles Ramsey tattoo on his Facebook page after seeing America's newest icon of bravery recount his story of how he helped rescue Amanda Berry, 27, her 6-year-old daughter Jocelyn, Gina DeJesus, 23, and Michelle Knight, 32.
"I got Saturday free if anyone would like a free Charles Ramsey tattoo. Also Shawn Patton a talented tattoo artist at tried and true is looking to do one today...," said Rose in a post last Wednesday.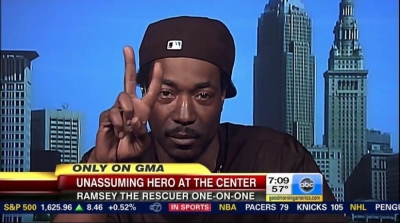 "He's kind of like that public figure in Cleveland right now, kind of the voice and face of it," said Rose, a tattoo artist at 252 Tattoo in a FOX8 Cleveland report. "He's such an expressive guy, I figured it'd make a great tattoo."
It was Rose's friend, Stephen Munhollon, a tattoo artist himself, who took him up on the offer.
"I think Rodney and I were caught up in the ridiculousness of it," noted Munhollon. "You could ask the question, did I want to get Charles Ramsey tattooed on my leg, and the obvious answer is no. The real question is, was I willing to get Charles Ramsey tattooed on my leg, and the answer was yes."
That willingness was inspired by Ramsey's selfless act of bravery and compelling backstory, explained Munhollon.
"In society, a lot of times people choose not to get involved in situations," he said. "I think what's really grabbed people, in regards to Mr. Ramsey, is he's an average, everyday guy. He's an ordinary person, he was put in an extraordinary situation that he could have walked away from. But he chose to do something."
Due to Ramsey's heavily publicized story, Munhollon has now become somewhat of an attraction in his hometown where people have fallen in love with his tattoo.
"People even around here loved it because everyone knows who this guy is now," said Rose. "I wasn't sure if people would think it was Jimi Hendrix or Bob Marley, but everyone knew right away it was Charles Ramsey. It goes to show there are good people out there from all walks of life, from all corners of the city."
Ramsey helped rescue the three women and the young girl from the home of neighbor Ariel Castro, 52, last Monday. According to police reports, Castro allegedly lured Berry, Knight and DeJesus into a vehicle on separate occasions and took them back to his house where he held them captive for nearly a decade.
During their captivity, the women were repeatedly raped, beaten and underwent forced abortions. Castro also fathered Berry's daughter, Jocelyn.
Castro was arrested shortly after Ramsey's daring rescue of the women. He is currently in custody on $8 million bond. A judge levied $2 million for each victim in the case and he is facing four counts of kidnapping and three of rape.